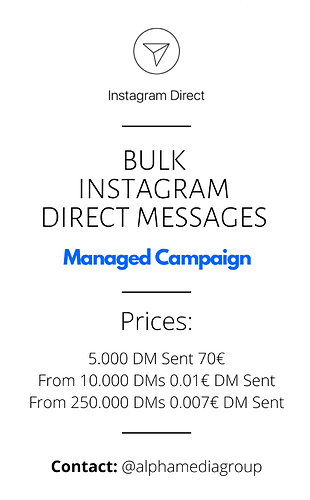 Price:
5.000 DMs Sent 70€
From 10.000 DMs 0.01€ x DMs Sent
From 250.000 DMs 0.007€ x DMs Sent
What We Provide?
We can send up to xxx.xxx / x.xxx.xxx Instagram DMs / Day
( everything is managed by us, YOU JUST PAY PER MESSAGE SENT )
For Whom?
Pro Instagram Managers, Pro SMM Managers, Pro Affiliate Marketers, Agency Owners, Bloggers and Marketers.
What You'll Gain?
​
You Can Skyrocket your Giveaways ( High Results if you use a targeted competitor audience )​
You Can Skyrocket your Instagram Follower Growth ( High Results if you use a targeted competitor audience )​
You Can Skyrocket your Fanpage Growth​
You Can Skyrocket your Social Media Accounts Growth​
You Can Skyrocket Your Affiliate Marketing Revenue
You Can Skyrocket Your APP Installs​
You Can Skyrocket the Traffic of your Site​
You Can Skyrocket the Revenue of your Shopify Store​
Your Choice, Skyrocket your Business now or watch the others…
How It Works?
Once purchased the service, you just need to provide us:
​
A list of Usernames to whom send the DMs OR a list of Competitor Usernames from whom we will scrape the audience.
​
Allowed Spintaxed Message Text​ + Post / Account Share ( Counted as ONE message )
( just direct links are forbidden, but ALLOWED in BIO, we can share a post or your Account. You can use the words you want, we don't care, we just require a little bit of spintax )
​
…then Chillout, Relax and just watch your business skyrocket
TAT:
1 / 7days (may change depending on system load and number of orders)
Payment:
Paypal, Transferwise, Bank
Refunds:
NO refunds Available
Contact:
PM here or Telegram: @alphamediagroup
For Everything else feel Free to Contact us.
Resellers and Partnerships are Welcome!​
Keep Crushin' it, with Relax and Chill-Out!