Hi there! I'd like to share with you something you folks have been asking for a long while: a DM panel!
---
Who is this service for?
Anyone can use this service!
---
How does it work?
Just like any other likes/f/views panel: you top up your balance, choose one of the the different DM pricings that matches your desired order, and fill out the order. Very simple! There are very well explained instructions inside, don't worry!
---
What makes your service worth it?
Apart from pricing, etc., the main benefits from this service is how long the DMs stay inboxed. We're talking about literally weeks, and it's not very easy to achieve this. What does this mean? It means you will be gaining followers and interaction for many days after your order has been processed. Here are a couple examples of two different DM campaigns on different accounts, which were sent out in only a few hours, but notice how followers keep arriving many days after action!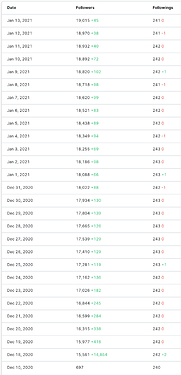 Also, and very important, I will do all the scraping. Meaning you can just send the sources, and I will scrape for you. You can of course send a userID list if you have done your own scraping, no problem.
And last but not least, I will cross out your current followers, so as to never DM them. I don't believe anyone else out there will offer this.
---
What are the payment methods?
As of right now there is BTC. It does have a few downsides, like waiting time. If you want Paypal, I'm not really using it (to avoid trouble with them), but if you insist, you must have good reputation in this forum and it must be sent out as F&F.
---
How long do the orders take?
I process everything manually, so it takes me anywhere from 2-5 working days to process each order, depending on the workload and the size of the order. Please keep this in mind!! This is a quality DM service, but it takes some time to process everything, as I check out everything personally and do not want to automate the whole process, at least for now.
---
Do you have any reviews?
Many people have tried my Targeted Growth Service, there are plenty of good reviews there.
---
Are there any guarantees?
The only guarantee is that I will send your order. There are no "results" or "growth" guarantees. This is a more DIY option for those seeking precisely that. If you are looking for guaranteed growth packages, check out my other listing offering just that. Keep in mind that only really good content accounts qualify for that one, whereas any account can use send-dms.com
---
If you have any questions please send a PM.