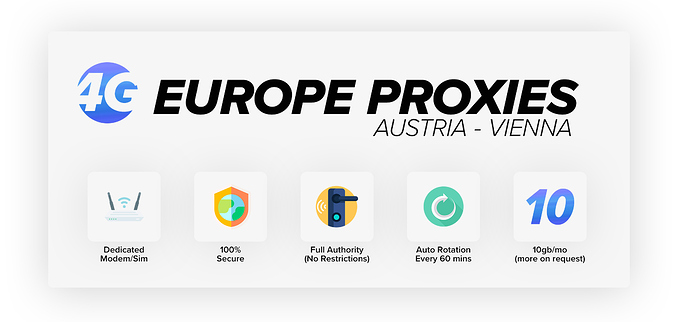 HIGHEST QUALITY PROXIES - LOCATION AUSTRIA


Super HQ Mobile/4G Proxies with full access & 60 mins autorotation.
Can especially be used for Instagram without restrictions. Every user gets access to a dedicated 4G Modem with a SIM.
Are proxies shared across multiple users?
Nope, each customer will have access to a dedicated 4G modem.
How fast are they? Are they stable?
All proxies are 40-60mbps in speeds and we have a 99.9% guaranteed uptime.
Do you offer support?
Yes, since we're housing the proxies - we have quick response time and enterprise level support.
Do you offer a trial?
Yes, we offer a 3 Day Trial to make sure you're satisfied before purchasing!
Are we allowed to use them for account creation?
Absolutely. You will be granted a dedicated 4G Modem with no restrictions. However, since the proxies are high quality ones, we recommend using them with high quality accounts.
How many accounts can we use them for?
The limits totally depend on your usage, however for the Mother/Slave/Niche account strategy we have constantly running 15-20 accounts per IP.
No Spam Policy
I hope this should be clear for everyone. Yes, our proxies come without restriction, however it is not allowed to use them for spamming purposes. You assume full responsibility for the actions you are taking with them and we allow us a right to cancel you should you violate that rule.
LIMITED QUANTIY
Since we aim for customer satisfaction, we cannot offer unlimited modems. So act fast for possibly the Highest Quality Mobile Proxies Worldwide
REGULAR PRICE: €49/m
Price for MPSOCIAL members: €39/m (use discount code:mpspecial)
Refund Policy
We offer a 3 day trial to test out our service and the ability to cancel every period (30 days). All sales are final.
Order here: https://bit.ly/4G_HQ_PROXIES