Hey guys
As most of you know, you can check out where most of your impressions come from in the post insights if you have a business profile.
I noticed that posts that I get many followers from almost always have about 75% impressions from "other":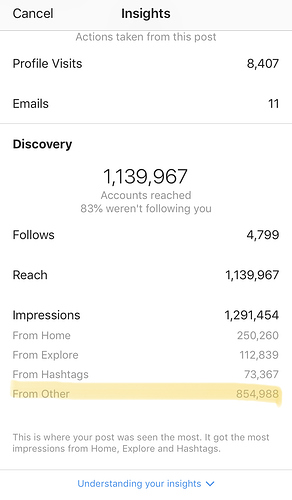 I was wondering where all the traffic from "other" comes from so I googled it and there's an official explanation from facebook. I'm not 100% sure what every one of them means but I kind of tried to explain how the traffic was generated in my own words. If you know what the points mean that I couldn't figured out, if I have made a mistake or missed something, please let me know.
According to Instagram, Impressions from "Other" could be generated by:
Posts that have been shared through direct messages
Users share posts through DMs. The users who receive them and look at them generate a new impression under the category "other"
Posts that have been saved
Users who have saved the post and went back to look at it again in their saved tab later generate an additional impression under the category "other". Not totally sure if that's correct.
Posts you've been tagged or mentioned in
Not sure about this one either. I think it's the traffic that originates from users who see my account in another posts and then click on the tag on the picture or mention in the caption. That leads them to my profile where they then find this post and generate a new impression under the category "other" when they tap on it.
Post notifications that you've been mentioned or tagged in
I can't figure out what that means exactly. Could someone explain this?
Posts that show up on the "Following" tab in your notifications
The followers of users who engage with my post will see the post in the following tab. If they click on it, it generates a new impression under the category "other".
–
Now… do these 75% of impression really come from only these sources? The only really big source I think is the last one in the list (the following tab) as high engagement can create a big network effect. But I doubt that so many users "stalk" their followings so much via the followings tab. What do you guys think?