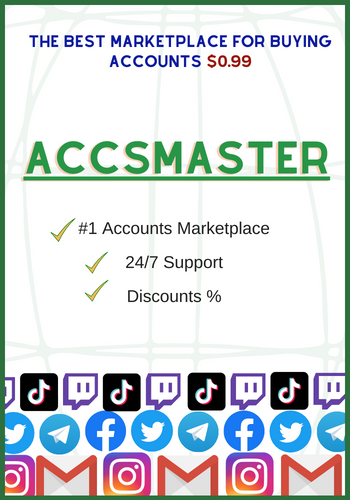 AccsMaster is an online-store where you can find different types social media accounts for your marketing needs. We are working with lots of suppliers to be able to offer reliable profiles with fast delivery for reasonable prices. In addition, on our website you can also get special prices for bulk purchases, regular discounts and promo campaigns. If you need a social media account, we kindly invite you to check the offered assortment.
What do we offer:
On AccsMaster you can find a wide range of social media accounts for any budget:
Softreg Facebook Accounts with email from $0.60;
Facebook PVA Accounts from $1.85;
Aged Facebook Accounts from $14.63;
Warmed up Facebook Accounts for Ads from $19.92;
Facebook Business Managers from $9.88;
Facebook Fan Pages from $14.99.
PVA Instagram Accounts from $0.90;
Aged Instagram Accounts from $5.99;
Instagram Account with Followers from $7.87.
Twitter PVA Accounts from $0.99;
Aged Twitter Accounts from $2.88;
Twitter Developer Accounts from $49.66.
Softreg Reddit Accounts from $0.99;
Aged Reddit Accounts from $1.99;
Reddit Accounts with karma from $7.88.
Discord Accounts email verified with token from $0.69;
Discord Accounts PVA with token from $1.20;
Discord Accounts in bulk from $0.20.
Mail com accounts from $0.25;
Yahoo Accounts from $0.30;
Hotmail Accounts from $0.05;
GMX Accounts from $0.25;
Outlook Accounts from $0.05;
AOL Accounts from $0.50;
Onet Accounts from $0.25;
Proton mail accounts from $1.50;
Mail ru accounts from $0.05.
Kindly, always check each product description before buying, as it contains important information such as detailed profile description, explanation of unique log in requirements (if there are such), format of the credentials you are going to receive, etc.
Also, please note, that all the profiles require such settings as clean browser and proxy setups to be done before using. All the required actions are described in Important Information so please, make sure to check it before logging in. In addition, please, be advised that proxies are not included in the most offers on our website, so you should purchase them separately. If you still have any questions or need any assistance, kindly contact our customer support team via chat window on our website or using email support@accsmaster.com.
How to place an order
Buying on AccsMaster is as easy as can be! Firstly, choose the accounts you wish to purchase. For easy navigation, products on the website are structured by sections and categories. You can quickly and conveniently find the desired type of account by using the drop-down menu with categories at the top of the website.
Once you have found the necessary item, click on the "Buy" button, and you will be redirected to the checkout page to complete the payment. In the checkout, you need to carefully fill in the "Enter email address" field, as this is where your order will be delivered.
Once all the information is filled in, you should choose a convenient payment method and proceed with a payment. As our platform is developing rapidly, new payment methods are constantly being added to the list of available options. You can check the current list of available options at the checkout on accsmaster.com
Once the payment is completed, accounts will be delivered to your email. Easy, isn't it?
Warranty and Refund Policy
We offer a 48 hours guarantee after purchase for validity of goods in case of adhering to the rules of usage. If you are not satisfied with the product you have received, please, contact our customer support team with a detailed issue description and our managers will be glad to check the case and provide you with a replacement if the delivered order is faulty indeed. If we can not replace the faulty order - you will be provided with a refund then. Please, keep in mind that if the account block is caused by actions performed by you or rules of account usage have not been adhered from your side - it is a non-warranty case. Please, check "Important Information" section attentively or contact our support team before logging into your account.
Customer support and Contacts
AccsMaster offers a 24/7 customer support service which you can reach via live chat on our website or by using email support@accsmaster.com. If you have a product-related question, need any assistance choosing a correct option for you or experience any issues with already purchased product, our support agents are up to help you anytime!
We kindly invite you to check our website by following the link: https://accsmaster.com/