Here the link to the Thread ⚪ ALPHA MEDIA - Premium Giveaway Growth service for Personal & Business accounts
Started the service at the end of July on an italian profile. The profile was a personal account of an hot babe that love travel and all the content where personal. She is also a professional photographer.
The profile was completely organic and about 5500 and some more follower.
The audience was pretty much all Italian.
Since the service listed is about giveaway in t1 countries I tought to give it a try and bought the 10k package.
I started notice something strange since the beginning. The service was really slow and not fast as stated.
Since the beginning they were really slow and all that they where about to tell me was to wait.
Well. 3 months is enough to wait.
They provided only fake profile. Mostly from Philippines. And just 4500. In a few words I paid 400 € what I'd buy in any smm panel at 4,5€.
So I'd like a refund now. !
Attached the screenshot of the last WhatsApp conversation.
Is in Italian but you'll see that is just me writing. The only audio was him telling me to wait.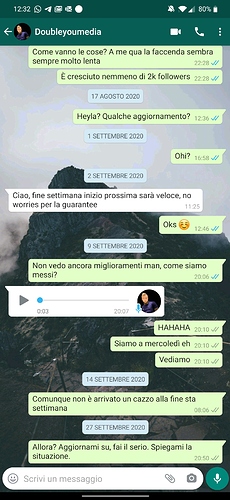 q
I also attach the statistic of the profile now so you can see what kind of follower they provide. !
IMG-20200930-WA0006|230x500
Hoping that this will help.