Can i post in both story & wall on campaigns in Jarvee or only one at a time?
Thank you
You can find option to post on both wall and story in the overview - advanced settings - instagram tab

yes, the option i found on FAQ is this

which only allows to use of of the 2 but not both?
PS : nevermind lol found it thanks
Glad that you found it now

Here is the screenshot in case somebody else is wondering about this option: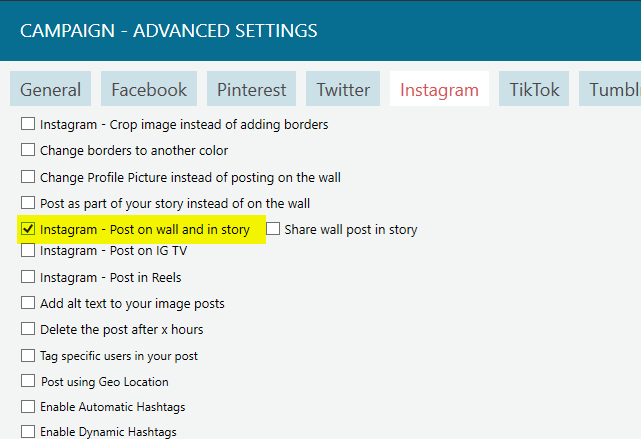 Does it work fine for you? because when i choose that feature, it stays pending, doesnt publish anything… and as soon as i remove it it publish
Perhaps you are using the format of images that is not supported for stories? Can you post that particular image through your phone app?
i tried all sizes still same thing , when i choose story + wall , it says " post queued for publication " and stays like that for ever…
Btw do i need a valid API acc to post in story?
Hey @TechnoBen, I haven't tried it recently. You can contact Jarvee support and they will help you if you have any issues with posting and this feature.
It looks like your account has "USE ONLY THE EMBEDDED BROWSER" checked, so the post will keep showing in progress until it times out in History tab. You need to uncheck the Use only the EB option if you want to post to story.
jarvee has this feature already I think. just make little search.