Hello Guys,
I want to bring you the cheapest 4G proxy stock for client management.
I have been in this industry for 3+ years. You know that 4G proxies play an active role in this business. As we all know they don't come cheap. This was the same problem I was facing, also I wanted to have more control over the proxies and decided to build my own proxy setup. It's been a year I have been using my proxies for my own client's management, I do M/S. And its have been working great for me.
So I decided to scale my existing proxy setup and make it available for you guys at the best prices possible.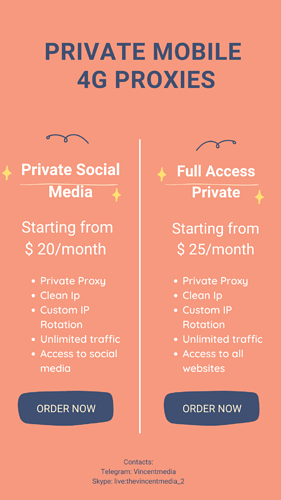 Rotation:
You can set any rotation time starting from 5 minutes, Default is 5m.
Authorization:
Username: Password
Location:
India. Multi Cities.
1- Pune
2- Mumbai
More location coming soon.
Carriers:
1- Jio
2- Airtel
3- Vodafone
4- Idea
Private Social Media - Access to social media website.
Price: $24/ month
Bulk: $21/month for order more than 5 proxy, $20/month for 10+

Private - Full private, access to all sites, except for payment systems.
Price: $30/ month
Bulk: $25/month for order more than 5
Shared- We don't sell shared proxy.
Payment Option
Paypal, Transferwise, Paxum. BTC.
UPDATES:
Added TCP IP fingerprint of real android devices.
FAQ
How many social media accounts can I run on these proxies?
You can run up to 100 accounts, as proxy comes with 100 threads.
But we advise running 6-8 accounts per 1 proxy. You can run more accounts by running the accounts in slots.
Will you replace flagged proxies?
Mobile proxies, could not be flagged. Maybe temporarily banned if abused in the account creations.
But in case you feel so, we will replace them for you.
Do you offer trial
We provide 24 hours trial. Request trial on this thread " I want a 4G trial".
Do you Discounts
Request for a discount on this thread " I want discount "
Refund Policy:
24 hours Money back guarantee.
Contacts:
Telegram: VincentMedia
Skype: live:thevincentmedia_2