Custom Ad Creatives That Convert!
So You Want To Grow Your Instagram, & You've Tried EVERYTHING!
From Shoutouts To Follow/Unfollow — Heck, You Even Tried Mass Story Viewing/Voting, But What If I Told You The Answer To Your Growth Problems This Entire Time Has Been…Wait For It…
INSTAGRAM ADS!
You Heard Others Get Phenomenal Results With IG Ads & You've Hit That Promote Button Before, But Zuckerberg Seemed To Drain Away Your Investment With Little To No Return…
Where Did You Go Wrong?
My Money Is On The ADVERTISEMENT…
If You Can Get A Good Advertisement, The Rest Just Seems To Fall Into Place.
I Never Was & Still Am A Terrible Video Editor… However, I Can Run IG Story Ads For Pennies By Outsourcing The Ad Creatives.
If You're Like Me, Then Let My Videographers Who Specialize In Story Ads Create Custom, High Converting Story Ads Right Off Your Instagram Profile Content!
This Is For You If…
You Want To Try New Services
If You're Tired Of Unreliable Growth
Desire Targeted Followers In A Specific Niche
Want To Run Ads For Followers As A Service For Clients
You Need Custom Ad Creatives Of Clients Content For Story Ads
EXAMPLES OF OUR AD CREATIVES:

FREE STORY ADS TUTORIAL

If you're interested in a Case Study - Instagram Story Ads Tutorial or How To Run Story Ads For Followers, I have done some videos on the topic that may also answer some of a buyers common questions/concerns below:
PART 1 - How To Run Story Ads For Followers
PART 2 - How To Optimize Story Ads For Followers To $0.01
PART 3 - What Makes A WINNIG Story Ad Creative
Targeting is absolutely the most important part. If you are targeting the location "new york city" it's going to be expensive no matter what. If you're targeting Worldwide, Tier 2, or Tier 3 traffic you can get some pretty astonishing numbers for a low cost. Clients of course pay the MOST for targeting Tier 1 traffic, or a combination thereof.
FAQ - Frequently Asked Questions
1. Do you run ad campaigns for us in your ads manager?
No, we are selling you a custom made ad based off the account of your choice. We do not run, manage or need access to your ads manager. You are purchasing a custom video ad creative. We can make ads optimized for followers, link clicks, or a Call To Action like a DM.
2. Can I make edits to the advertisement or changes?
Yes, you are allowed up to 3 edits. Our goal is to make you happy

3. Do you have a guarantee for a specific number of followers or CPC ?
No, we do not guarantee any CPC or number of followers with these ad creatives. Your results are based off your activity, content, budget, targeting, CPC, follower conversion, and numerous other factors. But using a clients' best content in order to make a professional, optimized ad creatives with a coherent Call-To-Action has been one of my biggest "hacks" when it comes to being a story ads manager . (I like it because it takes up more space & stories are still undervalued).
4. How long does it take to fulfill?
Most orders are finished within 3-7 days.
5. Is this Service Refundable ?
Refunds will only be issued if I deem the results not effective. Our service is delivered by actual team members, and we cannot provide refunds for work performed. If you have any concern about a payment, please reach out via DM/PM/Email to discuss.
Results From Jack Using Our Ad Creatives!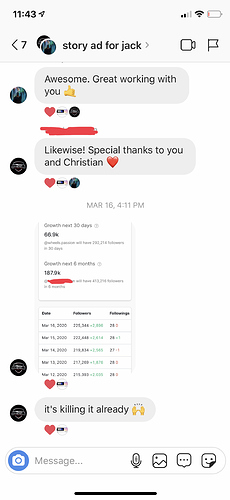 PRICING
1 Custom Story Ad - $49
3 Custom Story Ads - $119
5 Custom Story Ads - $175
10 Custom Story Ads - $297
Buy Now Below!

https://www.boucmedia.com/story-ads-order-now

Please contact us for if interested in higher quantity pricing

We currently do everything through paypal!

Please PM Me after purchase as well for the fastest delivery!
Feel free to ask questions below!