This works best for lifestyle, travel, and fashion bloggers who have 10k+ accounts.
Where to find brands who will sponsor your Instagram posts?
If you are sharing quality posts and engaging with a loyal following everyday, brands will approach you! But, there are ways to approach them yourself.
Influencer marketplaces
Google these and sign up to all of them!
Fullbottle
Obviously
Cooperatize
T R I B E
Popular Pays
Instabrand
Whaler
Hashtagpaid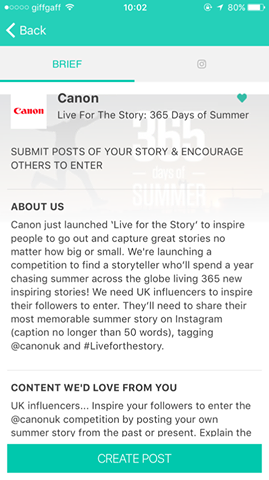 How many followers do you need?
10k+ is often an entry-level requirement. 15k+ is the sweet spot, when people start to take you seriously. Anything above 20k+, you should be able to secure weekly sponsorships.
Obviously engagement is just as, if not more important than your total followers. If you don't have consistent interaction on your posts, brands won't care about you.
Please comment below if I have missed out any influencer marketplaces! I would love to hear from your experience.
*UPDATE: Important info from the comments

How much do you charge for sponsored posts?
I have found people like to say that the industry standard is USD $10 per 1,000 followers. So that's $100 for each post if you have 10,000 followers!
In reality, it can be difficult to achieve that unless you are offer high-quality photography and a few Instagram Stories thrown in. Competition is fierce in these categories but it's definitely a good rate to aim for. Consider this as you would with any job and work out how much your time is worth.
And don't forget about engagement! Most marketplaces only care about total followers but some are starting to factor in cost per engagement.
Thanks for your comments, here's a screenshot I found on my phone from one of these marketplaces…
It's a recommended rates card (in GBP£).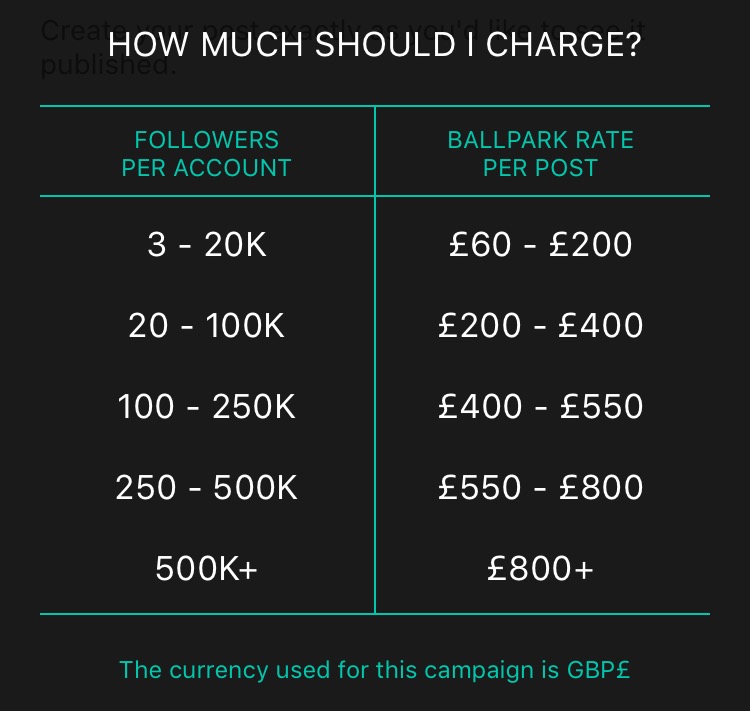 This isn't easy money. You can only expect to make real money if you have a real audience and you are consistently creating real, valuable content. A trusted website helps which is another reason why this route is best suited for bloggers. Huge brands won't work with faceless accounts that spam, promote dodgy links or that are overtly using blackhat strategies. That's not to say I'm against doing that if you are going down a different route! It might even be easier.