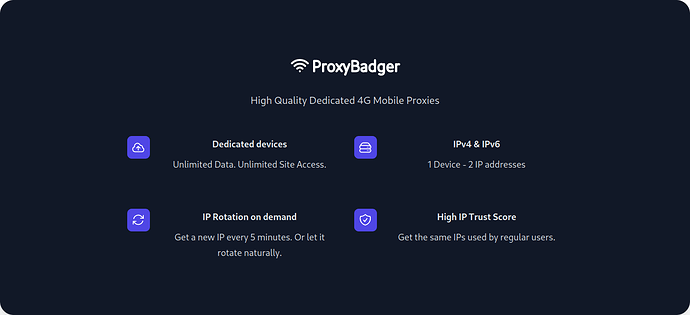 Why choose when you can have both?
SOCKS5 and HTTP CONNECT protocols supported on the same port.
User:Pass and IP whitelist authentication.
IPv4 AND IPv6.
1 device, 2 IP addresses.
You get 2 proxies, one to access IPv4 and another to access IPv6.
IPv4 proxy will block connections to IPv6 and vice versa.
Manage your accounts with IPv4 while you do some scraping with IPv6.
IP Rotation on demand.
Manual / Automatic every x minutes / API Link
(at most every 5 minutes)
FAQ
What operator/ISP do your proxies use?
At the moment we only offer proxies from O2.
How can i manage my proxies?
You can use our dashboard to change authentication and IP rotation settings.
Are there any restrictions on websites?
We do not block access to any websites at the moment.
SMTP ports for sending Emails are blocked.
Free 48h trial
Just comment below or send us a PM.
Pricing
Regular price 80€
For mpsocial members
69€ / 30 days (excl. VAT)
Contact us after you have signed up and we will apply the discount to your account.
20% Austrian VAT will be charged if you are located in Europe and don't have a valid VAT ID.
VAT invoices will be provided.
Additional discounts available for bulk orders.
Payment options
Credit cards
Paypal
SEPA bank transfer
Refund Policy
Full refund within the first 48 hours.
How to order
After you have signed up on our website please contact us to apply the mpsocial discount to your account. Then you can order and renew your proxies through our dashboard. Orders will be automatically delivered after we have received payment confirmation.
Contact
Web: https://www.proxybadger.net
Email: info@proxybadger.net