Wow, really amazing numbers.
Just my 5 cents, open your mind! you are in the border of racist comments, the world is broader than what many people in this post think. I have the privilege of traveling around the world every year and I can tell you that many people here would be shocked with what you can find.
This comment was like reading a Trump's twitter. I never expected this in a community like mpsocial. How somebody in 2020 can be so narrow-minded.

I agree with you. Just because the audience of this account isn't American or European doesn't mean they aren't of value. Which is how it appeared to come across.
The topic should just stick to a discussion of strategy/how to implement/etc.
Its not because "European", maybe its you people being racist. I never mentioned European or Asian, in fact you did. Its socioeconomical (thats a measurable number in every society) and age.
Welcome to the real world. Are you snowflakes or what?
He has a big issue that unfortunately he won't ever see. I stop here just not remotely get closer to a person like him.
One more Trump supporter: "no. good content is good content." of course @Parliament say so… guys please check all your content with him. Even your username says a lot about you

Youve no clue what youre talking about.
I guess that lineup is full of Trump supporters, huh?
Anyway, another snowflake who thinks that anyone who doesn't think like him (which I never even said, you did) is a bad person. Who's being the intolerant now? You wont get close? Whos being racist.
For the defense of @parliament, i don't think we can say it's a great content …
However, i thought the audience quality would be worst, for such numbers of growth
The content isn't good to me, but it's good for their followers. They have over 600k now lol
Please stick to the topic. Thank you.
I remember the days when you could like thousands of posts a day… how many is a safe number nowadays? thanks
@roy tested manually and was able to like up to 1000, I believe. But I'm not sure what automating limitations are
Yes Adnan we need to stick to topic but we cannot accept ppl offending with racist comments, we cannot ignore racists we must be anti-racists. No worries I erased him from my mind for ever.
Yes, it's definitely a huge crazy amount of followers lol
You definitely need to spend some time in the freezer to not melt down. No one ever mentioned anything about race. Race isnt an issue in audience quality, socioeconomical/sociocultural levels and age are. You're the one who considered that such audience might be subject to "racist attacks", and the only one being an actual racist by considering them object of any eventual differentiation precisely because of race.
I checked a few slave accounts, I don't see any tagging of main in posts. You sure that's how they translate the followback from slaves to main?
How many slave do you think it will take to get 30K+ follows for main per day? 10K?
You're right. They use the main as a hashtag sometimes and occasionally tag some of the other slaves. I could've sworn the main was tagged in the caption. I think their strategy is more complicated than I thought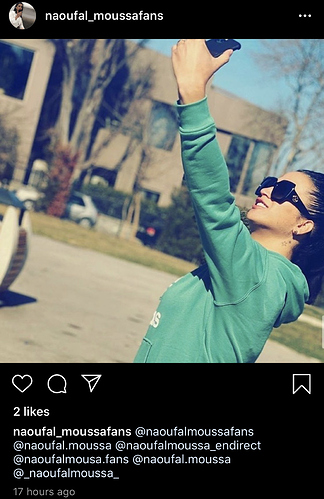 They must have thousands of slaves. This strategy is more in depth than I thought. I think there's a component I don't understand, like how the main page is getting traffic without the tag in the post.
Maybe they're sending DMs within the limits, which can work if they have thousands of slaves
Pretty sure they're just creating a huge illusion of the main being the biggest celebrity in the world, the 1000s of fanpages reinforce that, no need to tag the main at all…
Those seem like poorly made slaves. The ones I sampled seem very young too. Maybe they just have a system to automate the pumping out of slaves and have the slaves to push the limiting of DMing and/or tagging main in other people's post comment section. If the slaves get banned, they just ditch them and it wouldn't matter if they can pump out tons of new slaves
Exactly what I was thinking. Plus the fact that they just tag fan pages make people want to check each of them just to know who is this naoufal think that everybody is talking about. Snowball effect imo.