DO NOT RISK YOUR ACCOUNT BY AUTOMATING ON IT! IT WILL COST YOU A LOT TO GET IT BACK. ($5-10K) CHEAP USUALLY MEANS DEATH IN THIS INDUSTRY!
What is Mother/ Child and how does it work?
The idea for 'Mother/Child' became a popular topic when Instagram started to change limits on doing 'Follow/Unfollow'. People were losing their accounts!
Mother/Child bypasses these limits as it doesn't use your account, you don't need to worry about blocks or captcha. The traffic is coming to you whilst you sit back and watch your account grow! You also don't have to worry about shadowbans or issues with spam. Everything is done cleanly and professionally.
How? The mother is the main account. Your account. The slave (child) accounts are my accounts that have been made specifically to help your account grow. These accounts do all the hard work; following, DMing, sharing etc. The mother just gets the traffic brought to them.
Mother/ Child is the best and safest way to grow your account. Every other method has risks involved. I have never had a client get their account in trouble! Take a look at the below picture for an example.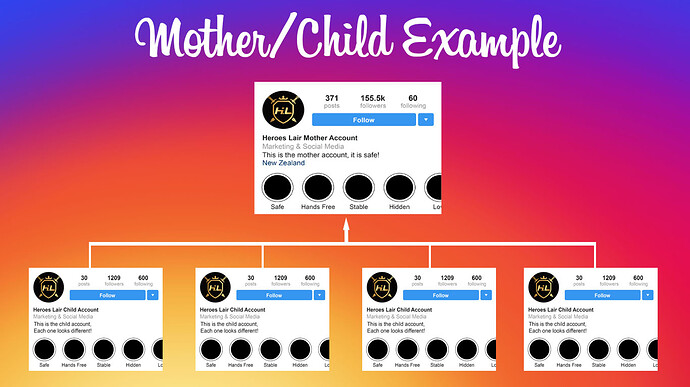 Why should I choose your service?
The best thing about my service is that I am results focused. If I look at your account and think I cannot grow it. Then I will not waste either of our time. I only work on professional, aged profiles. This means that if we work together you know you will see results. Some people will try to grow everything and anything.
I also pride myself in how my slave accounts look. I do not use old slaves or premade ones, I make slaves designed to get you the best followers possible. I work in the same niche and use the sources you want to use. This gives the highest possible chance for followers to your account.
I work with you! I am very open about what I am doing and how things are going. I will update you throughout the warmup process and show you drafts of the dms I will use and any ideas I have that could make the growth as great as it can be. Once I see that you are happy with everything, then I start the process.
What is the process?
After payment the warmup process begins.
Every new account needs to be warmed up and prepared for growth and the people that can start instantly are not using tailor made slaves like myself. They are using old ones from past clients.
Here is the process:
Week 1: Creation of accounts, Making a gameplan for growth
Week 2-4: Warmup
Week 5-: Growth
The first day of growth will be when your paid month starts. You do not pay for the warmup period. The next rebill will be a month after that. Easy!
What are the payment methods?
I accept USDT, LTC for crypto payments and Wise, Stripe for trusted users. Paypal can be an option but fees are at your own expense.
How long till I see results?
Results will start in the 5th week after payment unless stated otherwise. This is to ensure proper warmup is done and long term growth is achieved for you!
What pages will you grow?
I just love to grow accounts that look great! So, if you have an awesome account then send me a DM!
*NOTE: I will not grow accounts in the following niches: Adult, OF. Poorly profiled or new accounts.
What is the estimated growth and price?
Well this is entirely up to what your account looks like and how much growth you want. I base my prices on an estimation of costs and hours worked. So, If you have an amazing account, that is in a fast growing niche you will have a cheaper rate than those with poorly made accounts.
I feel it is my job to be honest with people and tell them what I think. This is why people complain about other services. They are promised results based on a generalized approach but their account doesn't get the expected growth, then it's the seller's fault and they are to blame.
The price packages are subject to change based on how much it costs to run at that time. When a price is increased it is only for new clients and not current.
Here is an example of a few art accounts ive been working on over the last 2 months: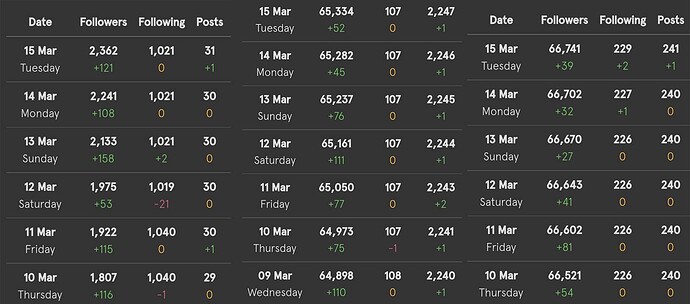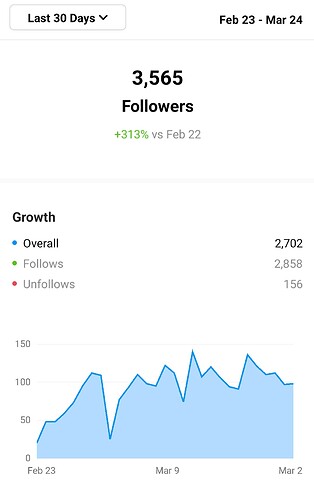 Refund Policy:
Refunds and partial refunds can be given out if the estimated growth cannot be established. Refunds are not given in the warmup phase and if the customer is getting the results they agreed upon.
How Can I Sign Up?
Send me a DM on MPSocial!