Hello there MPSocial community!
Since there is a lot of problems in automation I wanted to share a basic principles and strategies how I work in building up the brands and companies with Instagram.
You may ask Why do I share this? I love sharing (Sharing is caring people) & in the time we were all struck by Instagram's AI, I sincerely don't have any problems on my established profiles (50-500 followers a day) doing nothing.
How and What we are going to learn from this? I will start from beginning with a real example just for you guys so you could understand everything better. With that you will learn how to build brand name to the highest degree possible with 0 budget in Ads. P.S: Customers will be very happy.
Who am I? I'm Nick/Niko working in small countries within Europe. I've successfully pushed several musicians from »rags to riches« over time. Also made several small companies going big.
So let's start.
I've had a beer last night after a very long time… So my first thought for Instagram profile example was something with beer and brewery. I picked @harveysbrewery. - Lets say they are our new customer.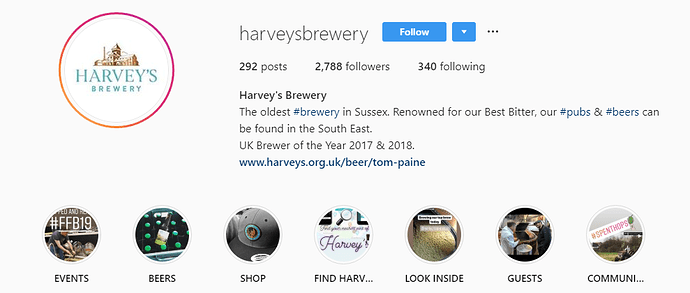 We make a quick-look to a profile and we see the following;
-They are oldest brewery in Sussex. Most of their beer is located in South East.
-They're UK Brewer of the Year 2017&2018
-Their Bio is written very well (simple and easy-to understand; good use of #brewery in sentence.) – I might add an emoji or two (To look more friendly).
-They have too much story pins for my taste. I use 3-5 max. They have 7. + They don't use any theme picture in story pins. (just take a look at them).
-Posts………. They are utterly shite. For example out of first 12 posts they have 3 good ones and one of them is a repost and one video and one good picture of someone holding two bottles of chardonnay. We see no plan is posts nor strategy in all of 292 posts they have. Examples of good posts;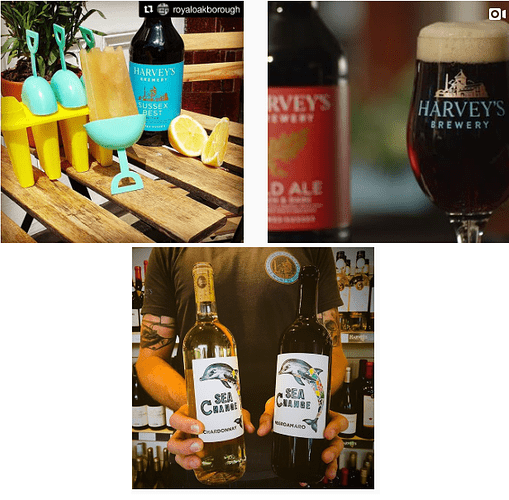 -They dont have own hashtag; #harveysbrewery stated.
1. Analysis, Research, Starting & Adapting
In marketing we ALWAYS first foucs on »home base, home people, home city, home country« THEN expand further. So If brewery is located in Sussex and most of their beer is in South East we start with that.
After quick look I found few profiles to put in scraping list for F/UF/L for our Jarvee&GMT2.
@sussexroyalmh, @sussexlibrary, @sussexginandfizzfestival, @sussexvegan, @wildsussex and hashtags; #sussex, #sussexsquad #sussexcounty #dukeofsussex #sussexlife #eastsussex #sussexuni #sussexbeer #sussexpub #sussexpubs & Location Sussex.
After doing only these hashtags and profiles for 1-3months do the same for SOUTH EAST ENGLAND areas which consist – Berkshire, Buckinghamshire, Hampshre, Isle of Wight, Kent, Oxfordshire & Surrey.
NOTE: I do not know any of these places so nor do you. Stop complaining its hard. – Google it.
In this time be practical and leave hashtags that are working better for you and delete those that are doing bad for you (follow back ratio). Bad means everything below 7% conversion(I dunno, I like the number 7 – if its somewhere here, the page has atleast 2,5K visits per 7 days.)
Also make an extended research since I just did quick one… Look for influencers in that area, business with many followers in that area that are specific in area. Everything that you think a normal Sussex citizen would follow and not »Habibi« one.
2. POSTING
Every post should go to IG&Facebook and also for every post make a story for new post.
Good app for post stories is: Mojo (on iOS only)
2.1 Post operation
Post always around same hour/time. Look at Instagram stats about when most of you'r followers are online and choose time that suits you then start posting on that time everyday.
-It works because of psychology. We humans, people love habits and are creature of habits. And seeing a post everyday at 7PM&liking it, is a habit. Simple rule but overlooked by many. There can be exceptions (no worries). Just stick to the timeline.
-If today is a rainy day, post a rainy picture. Make it believable that pictures are "up-to date".
Adapt quickly in posts -> for example #10yearschallenge. Make a picture of #10yearschallenge of brewery or beer bottle or taste. Use imagination.
2.2 Post strategy
There is a lot of things that we can post in context with brewery but lets keep it simple. We want;
1x a week – beer quote
2x a week- picture of people drinking&talking over our beer.
Example for post:
I like to keep it as normal and down to earth as possible I can… so what would I make is picture of a lad drinking beer with description:
`This lad said: »The beer is f*****g good mate, ay«… We like you »his name«, Hope you will enjoy your free pack of Best Bitter in Sussex (emojis).`

#freepack #freebeer #bestbitter #beer #brewery #harveysbrewery

3x a week – a picture of beer in diffrent pubs, with diffrent snacks, food to go along with.
1x a week – a picture of our brewery, brewery process, workers in brewery etc.
Exceptions are; Tragic events, giveaways, national news etc. – When you have exceptions you post TWICE a day. So normal post + exception.
Example for tragic event:

We can wash most of our problems out with few beers, but unfortunately not that one. We feel devestated and sorry about terrifying news regarding Paris attack. (pray emoji)

Yours Harveys Brewery.

#prayforparis

ONE EXTRA SMART NUGGET EXMAPLE FOR STRATEGY:
1x a week – a »hold my beer« funny video scenes.
2.3 Giveaways
Do giveaways once a month. If we are in Brewery&Beer business, we should try following options;
-Make pubs to do giveaways for you:
-Make a giveaway yourself to win a sixpack of beer. Make a football specials or something like that.
-Or you make giveaway for a pub that has your beer or doesnt have.
Example :

    Free 6 pints of @Harveys Brewery for you. Tag a mate who will come to drink with you in our pub.

    We announce the winner on this Friday!

!NO RULES FOR FOLLOWING AND LIKE! – This kills every small giveaway out there.
3. Story pins & continue
The people need to know following thing; »WHAT DIS«, »WHERE DIS«, »WHO DIS« »BUY DIS«, »OPINION DIS«.
»Beers« where you put in stories only which beers you offer.
»Where'sHarvey« or »FindMe« where you put stories which pubs has your beer and in which stores you can find it.
»Reviews« where you put other people opinion in text or video. On every 10-15 positive reviews, post one negative also(so they know you are the REAL DEAL« with text that you are happy for wanting to make brewery better&bitter for exmaple).
»Brewery« where you put well put stories of process of brewery from first step to last.
»Shop« where you put swipe up for ordering beer to home&pub.
4. Never ending battle
After you will cover every step and move from Sussex to South East England and then to South West and then to London areas and London a whole then whole goddamn England. You will know much more or at least same as me. In fact doing this for 1 year will give you great knowledge from theoretical to practical as you will face minor issues like how to make giveaway better, how to make post better to perform, how to make a better strategy for engagement, how to make sales funnel etc.
I hope this would help to anyone who wants to start or is already doing it. I just wanted to share basic principles how I work, how I do things. I don't like simple metrics like 30K follows yearly gain. I love that my work is seen and has made others better. Thats all world is about guys!
Peace!