We all know how Jarvee always keeps track with the latest trends and options launched by social platforms, especially from our favorite – Instagram. So, obviously, they didn't need much time to introduce options that will allow us to automate everything related to Reels, including reposting from Reels, reposting to Reels, sending content from Reels to Publishing – Campaigns, filtering, posting to multiple destinations after that, etc.
These quick, 15-second videos are really catchy, and you have to admit that it's becoming more and more present in our daily Instagram browsing. That's why it's so cool that we, Jarvee users have the opportunity to take advantage of Reels by automating them via Jarvee's Repost and Publishing – Campaigns tools.
Today, I wanted to share with you a couple of really easy ways to automate Reels via Jarvee.
First thing first, you can use the Repost tool to repost from Reels of specific users to your account's Reels.
To do that, you need to go to Repost / Sources / Repost Posts of Specific Users post, select the option Repost from reels, add usernames whose Reels you want to repost, and press Add Usernames.

Now, if you want to repost other people's Reels to your own Reels, the only thing you have to do is to select this option in your Repost Settings tab: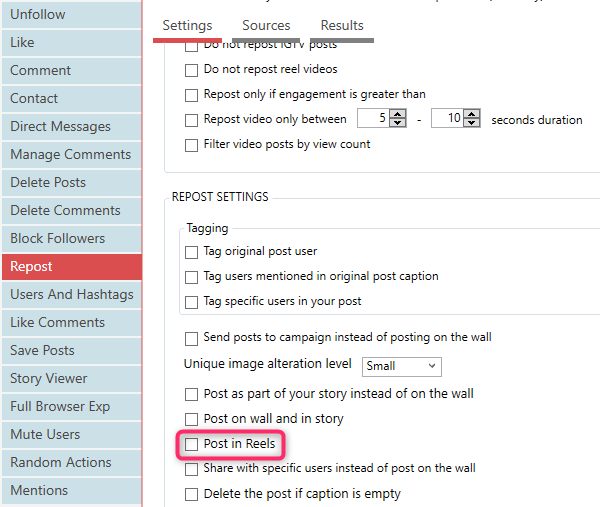 And voila, as simple as that

Of course, there are numerous of filters that you can use in the Repost / Settings / Filters sections that can allow you to find only the best and the most suitable content for you.
Now, if you want to repost content from Reels to multiple other IG accounts, you can send the content from your Repost tool to the preferred Campaign and then post it to Reels of other IG accounts.
To do that, first, you need to select this option on your Repost / Settings tab, and choose to which Campaign you want to send the content: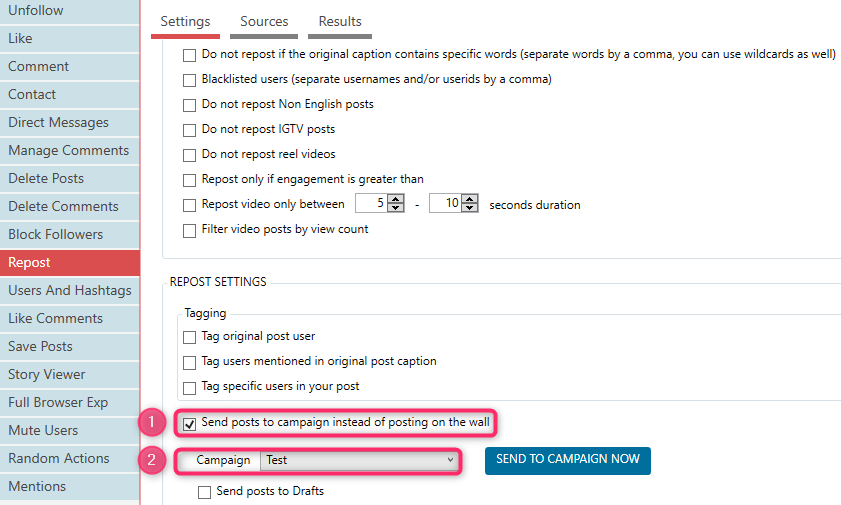 Then go to your Campaign, where you've already added IG accounts as destinations, go to Overview / Advanced Settings / Instagram tab and select the option Instagram – Post in Reels: