Guys!
I am running some accounts are thinking of the ways to get a lot of comments and engagement on the posts. I had some posts getting 200+ comments on 2-6k account (that's a lot on my opinion), for example this post of mine:
This account (mine) had only 2k followers at the moment of posting this picture: (no engagement groups, no power likes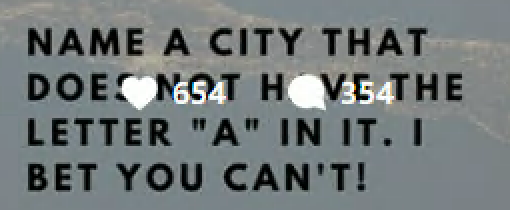 Name a city that doesn't have the letter "A" in it. I bet you can't!
Even the question is soooo easy to answer, people are commenting like crazy…
Just by asking this I got a lot of comments.
Do you have any creative ideas what other questions I may ask my followers so I could get a lot of comments of it?