You wont get anywhere near 50 visits a day per account
You can get more than 50 visitors a day from one twitter account. What people fail to realize is if you are social on social networks you can get any results that you desire!
I get more than 50 visits a day per Twitter account… It's very possible. Revise your marketing strategy on Twitter.
Exactly!
Spamming twitter will not produce any results. You have to follow people in that niche…not only that you have to follow people who are active.
I set MP to only follow those who have tweeted in the last 7 days. I also go down the timeline of the account once a day and jump in random convos with my followers!
If you are not going to be social (even just a little bit) you will never see results on any social platform.
Tweetdecks are also not a bad decision, they have automation tools out there that can handle the tweetdecks for you once you're in too.
On how many accounts do you get more than 50 views a day from
1? Yeah can see that
On scale definately not
I have proven this to be false. Just because the 'Genius billionaire playboy philanthropist' can't do it, doesn't it's impossible for others. Don't tell other they can't do something simply because you have failed at it.
Twitter has over 300 million monthly users, it is 100% possible to scale up to have each account pulling 50 clicks a day.
Twitter marketing is still very effective to spread awareness of the brand across the internet. You can use hashtags with the content for viral marketing.
yes this is true twitter marketing is dead
Not true at all… I pulled about a million link clicks to blogs from my Twitter network in the past 12 months. May be true for those who do not know how to market on Twitter.
Tweetdecks, trading retweets, HQ content, engage with your target audience.
What tweetdeck do you use to trade retweets?
For my niche Twitter is much better than instagram so i would say its not dead
I do think it is very niche dependant though
Which twitter mp tools do you use ?
and here is September with 162 tweets in one month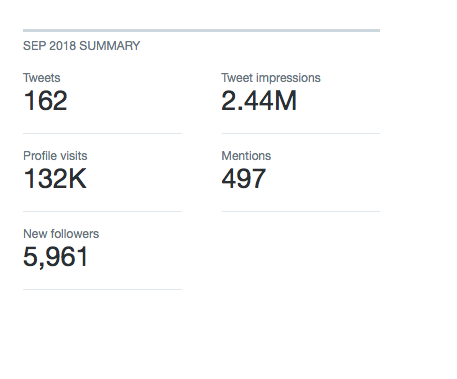 I'll wash your car for you if you post your settings for follow/unfollow for Twitter. My Twitter accounts (aged 4+ years) get locked after 40 follows/unfollows.
Are you running follow/unfollow same time? I do a few hundred actions a day never get anything.
What proxies are you on ?
Twitter is not dead for sure i get a lot of my youtube views from it.