You might have noticed our forum is not using the commonly known phpbb, vbulletin, SMF or IPB scripts. It is using a different platform called discourse. This one is a little more community oriented, I am not going to go into why this and not something else now, what I want to do is tell you a few tips and trick to better use this cool platform.
So here it goes :
If you want to quote someone, just highlight the text ( same you do when you copy something) and click the button that pops up with "quote"
you can do multi-quotes, just repeat the above step for multiple bits of text, it will all show un in your reply at the bottom.
if you're fast with the keyboard, the forum accepts a lot of keyboard shortcuts, you can do just about anything, check them out by clicking on the button between your avatar and the magnifying glass, and choosing at the bottom "keyboard shortcuts". Here's a sneak peek: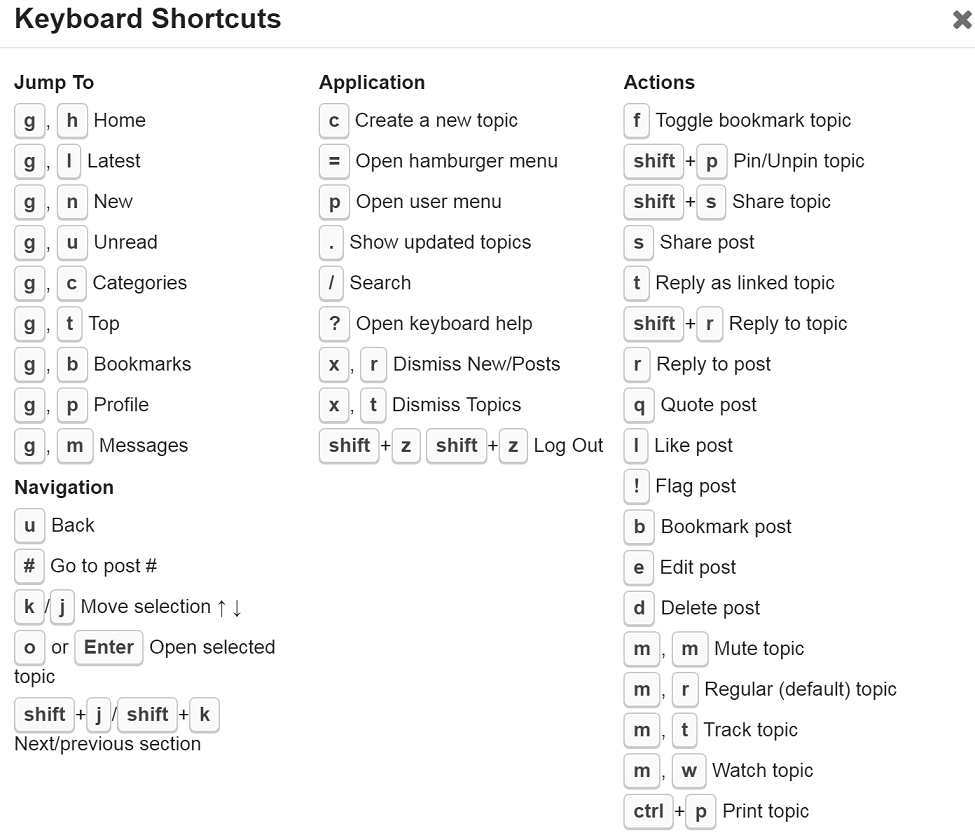 if you edit your post within 5 minutes of it being posted it won't count as an edit. After that all edits are recorded.
on the right side of every topic there's a vertical bar with the timeframe for the posts. If you click the top date or the bottom date you will be taken directly to the first or last post. You can also slide the small scroll bar to quickly get to the middle of the topic or anywhere else you want
if you paste a link alone on a new line it will display a preview of the link, like on Facebook, if you have the link after some text it will not
a user will be notified if you mention him/her in a post like

@username

, make sure you don't misspell it or just select it from the list that pops up
on your profile picture in the top right corner, the number that shows up in blue is the number of notifications you have, the number the shows up in green is the number of personal messages you have
the forum has a bookmarking system, it's just for you so use it to easily find topics you really like. The bookmarking symbol looks like a book sign. You can view your bookmarks at any time by clicking your avatar and the bookmark sign underneath
there's a lot to say about formatting, but the most important thing I think will be that you can use headings. Place a # in front of a text and it will make it a heading. The more ## you place the smaller the heading, like this( first one has 1#, next one has 6#) :
#This is the biggest heading
######This is the smallest one
some of the badges you get can be used to be shown on your profile and along your name ( like you see to the right of my forum username it says "Mass Planner Team" you can have text there as well when you get a corresponding badge. Some of you might already have the "Mass Planner User" badge, you can use it, or the "Regular" badge. To edit this go to your profile - preferences and edit the "Title" field.
the forum has an about page where you can see forum stats like total number of users, topics, posts and so on.
the magnifying glass in the top right corner is actually the search function of the forum and works really really well, I'd suggest you use it when you want to find something fast or if you want to check that you're not making a duplicate post.
This is pretty much everything I can think about now, if you have any questions do add them blow and I'll add more to the main post.