I haven't noticed anyone mentioning they are doing this so I figure maybe it's not popular knowledge and me sharing what I do may help some other people.
I'm sure most of you know if a hashtag has high number of posts, it may not really help you that much to use that hashtag, often time it may even hurried you because your post gets buried fast under hashtag too big for your usual level engagement.
What's more important than number of posts under a hashtag is number of following of that hashtag. But that's not something IG post give out freely. There is a back door to get that important that just takes a little work.
You know if you go to the following list of an account and click on hashtag tab, you can see the list of hashtag people follow. So what I did was I built a scraper to go through all the followers of my main and child travel accounts's followers and save what hashtag they follow into a database. Then I wrote write a sql query to sum up the hashtags ordered by the most number of following or ordered by the highest following/ total post ratio (I think the effective hashtags are ones followed by most people but not too many posts under it so your post gets burried easily).
Here is what I have for travel niche (I only collect data for travel niche but you can apply the same technic for your niche easily). Out of 11000 of my main/child account followers, there are the hashtags with total post count under 100Mil and Number of accounts following those hashtags<100!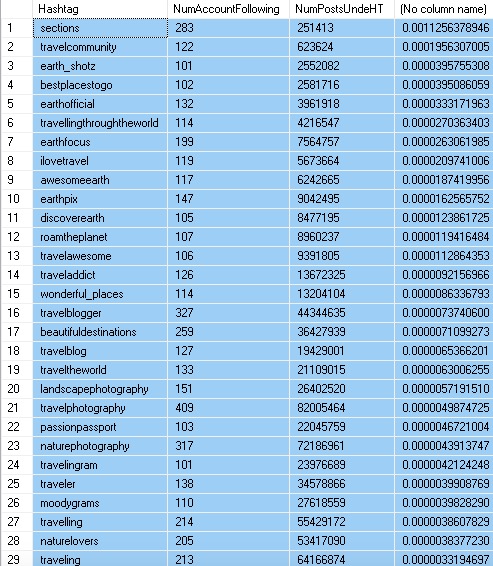 ordered by Num of follow/number of post
If you find this post help for your, please show some love and like it. I can really use some more likes to reach lvl2. I have read 9K post and spent 1Day of reading time on MPsocial but Im way a little on the like requirement.
PS. I have no idea why hashtag #sections is so poplar. lol