No way!!! That's amazing! Been wondering why they haven't included hashtag-specific insights yet. It's like they want it to be a guesing game.
Good. Now I can stop using the dog related hashtags that don't work lol. There's like 10 variations of "breed of instagram" for each breed in hashtags. So annoying.
hahah yea its gonna save people a lot of time which is great
This is actually great news. In fact it has been long overdue and its going to be huge factor in convincing clients to use hashtags more aggressively and to use a bigger variety.
Spotted this post on Reddit, does anyone else have this already? Looks like something game-changing to me.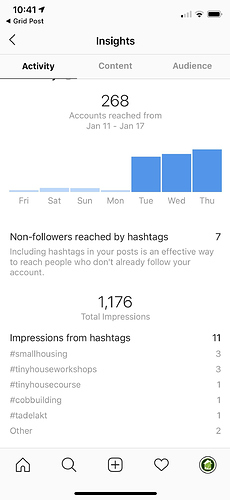 Is this iphone? Or android? Howd you get here. I checked my insights and it doeant have that
Read the 1 sentence in this post, found it on reddit
Yeah let me check my iphone. That's an iphone
I got it off reddit as well I just thought id share. I dont have it yet but im sure i will in the next few weeks. It does look like its going to change up a lot of things! This x @MojoJojo could mean great thingss xD
I read something about this! We are able to track up to 30 hashtags at a time for this, on a rolling 7 day basis.