Hello,
Today i'm going to explain how to easily download bulk amount of images from any website. i have tried to do this with lots of tools, but none of them get even close to what i need. for example DownthemAll have a problem with websites that have pagination or infinite scroll. so today i will explain a killer tool i have found which do the job easily and quickly.
i was having more than 2800 liked images on Tumblr i need to download, so here what i did.
Download Chrome Extension Fatkun Batch Download Image.

after installing you will find a small icon added on chrome browser, click it and choose settings, from setting specify what size of images you need to scrape, i choosed (200X200), so it will exclude all the images less than 200 pixels (like profile pics and home,search icons and so).


now we need to tell the Extension what pages to scrape, for only one tab, go to the tab you want to download images from, and click (This Tab), if you need to scrape more than one tab, open all the pages that you need scrape from and click (All Tabs), but if you like me and want to scrape pages than have navigation, click on (open multi page) and add the pattern of paging to this text box.


here is how the pattern goes for tumblr for example: i want to open from page 1 to page 20 so i write it like that
https://www.tumblr.com/likes/page/[1-20]
that means it will open all the 20 pages in one step, next time i will start from [21-40] and so on.

now all the tabs i specify has been opened, i will click (all tabs) to begin scraping, what the extension is dowing now is finding all the images bigger than 200X200 in all the open tabs, so make sure always that you don't have any other tabs open except the one for downloading images.


at the top you will find a toolbar that you can change the setting you specify before. DON'T EVER TOUCH IT, I found that whatever change you do here, the extension will repeat the scraping procedure, resulting in too many duplicates in images when downloading. the only button you need to click is (save images).

when you click (save images). it will give you a warning to remove (Ask where to save each file before downloading) from the chrome download settings, if you choose this option, it will result in too many prompts asking you where to save every file, which could even hang your pc.
so its better to specify where to download first, then untick the option (Ask where to save each file before downloading).


now this process is finished, sometimes you may find duplicates despite all the caution we made in the last 2 steps, so here how you can solve this, download XnView Extended, for people who don't know this tool, i have used this tool since windows 95 and it never failed me, whatever bulk operation you need to do with your images it will do it (Watermarks, cropping, converting extensions, filters and 100's+ more features).

after installing the program, point it to the folder where you downloaded your images before, we need to find duplicates in this folder, Tools > Find Similar files


choose (Similar Picture Content (slow)), here i choosed the duplicated images has to be 100% identical, some times you have to chose lower values like 90% or 80& if there is duplicates with different size images.


now it shows the dublicates and how many duplicate happens, select all from the bottom section and delete them all, don't worry, there will be still one image not deleted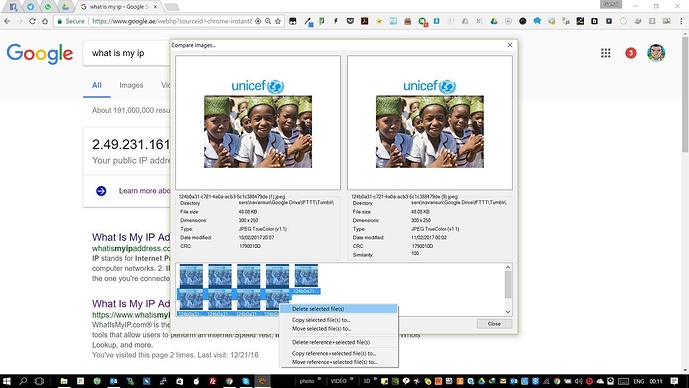 Notes:
don't try to open too much tabs, your browser or even your PC may crash.
when you try to open all pages that you need to download from, give it some time until it's fully loading.
open only the tabs you will download from and nothing else, to avoid downloading unnecessary images.
take a rest between every bulk operation, so that the website don't block your action
it seems that the tutorial and steps are too long, but in fact i downloaded the 2800 images in less tan one hour.