Hope the share will encourage others to share the knowledge also. It's sad to see everyone is keeping every small detail private when we all have to stick together and learn much more.
If you are manual service provider like us or automation provider or normal person want to grow their profiles, this will 100% help you look into the right direction of getting the most of daily actions we are limited to.
1. YOUR PROFILE
Breakdown your profile - scrape all the followers you have and put them into the excel sheet.
We need to sort out your followers AND your followers-followings into groups.
Followers sorting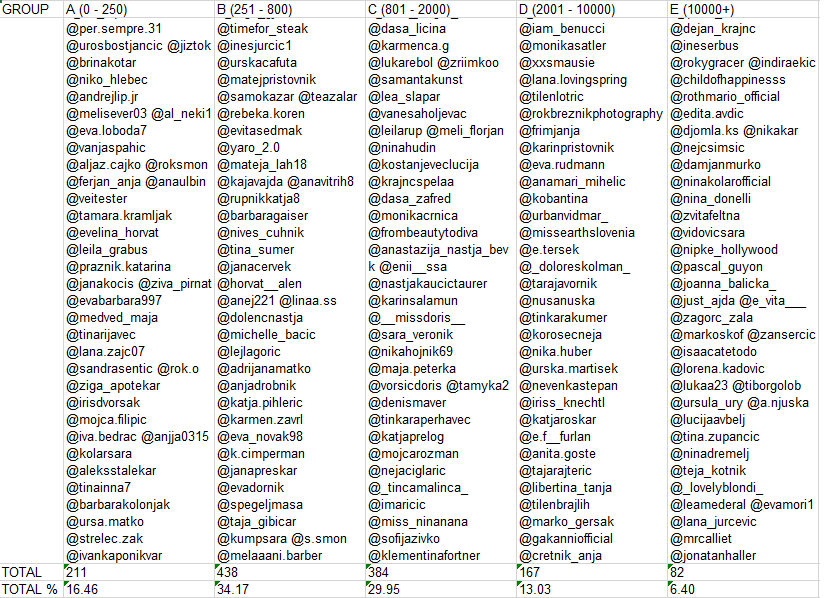 Followings sorting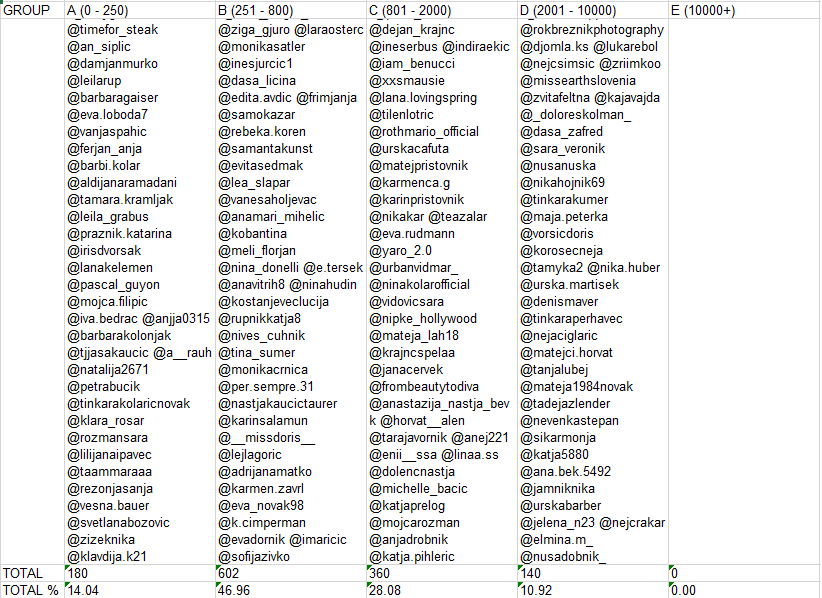 Why do we need both?
Followers - We need to see what sort of profiles are actually your profile followers. With scraping and sorting all the larges groups we can clearly see - Which group follows you the most a.k.a which group had best FBR.
Followings - We need to expect their behaviour. Yes the profile, content tells someone a lot if he/she would follow the profile or not. But psychology of number plays a big role here. We therefore need to assign every username in Group B - Followers sorting to his Following Group.
Next - We have sorted our Group B of Followers and assigned them their Following groups.
We've got:
A(0-250) - 12.50%
B(251-800) - 38.50%
C(801-2000) - 43.75%
D(2001-10000) - 5.25%
That means our perfect number wise follower would have from 251-800 FOLLOWERS and 801-2000 FOLLOWINGS.
2. YOUR NICHE
Analyse accounts in your niche - on a same principle as we used it above. Then their followers from 251-800 FOLLOWERS and 801-2000 FOLLOWINGS are your targets. This way you gain at least 40% FBR no matter what content, what account you have. Its just needed to be in the same niche with normal posts.
Make sure you analyse competition that is SAME as you. If your profile has followers from 10K-15K then search for competition that same has followers around 10K-15K. The groups are drastically changing over the time your profiles are gaining followers.
The spread in the groups are not the same if we look at 5K fitness profile or 12K fitness profile or 312K fitness profile.
The most changes in your follow-back metrics happen from 250 followers above-1K above-10K above.
3. Analyse, Test, Results, Repeat
The more detailed you go into this - the better. The more groups you do - the better. The more profiles you scrape - the better. It goes easily up to 55-60% FBR. Then it gets harder and harder.
We are in 2,3TB of data just for doing FBR's. The meaning of tutorial wasn't that you will instantly get 60-70% FBR. The meaning was to show you the direction you need to go to achieve it. Number psychology has around 70-75% decision factor if someone follows you or not. The content has it's say on how long the follower will stick to your page.
This could be a very long tutorial but I've wanted to make it short and simple. The full tutorial on the 30-40 pages will be released somewhere around June-July 2020 on MPSocial. There are still a lot of ongoing tests that must be completed and properly analysed.
The software used for scraping are custom - Please do not ask about them. You can find variety of scraping programs online or in this forum exactly for THAT.
Have a nice day!