HOW TO MAKE A 4G PROXY WITH JUST AN ANDROID PHONE AND A SIM CARD WITH 4G DATA
There is one app on Google play which can make a 4g Proxy out of your phone with just a single click,the app's name is 'AllProxy' so refer photo 1 for reference.
The app gives you a http and socks proxies together with the sim card's data so you can use http for browser automation and socks for app's.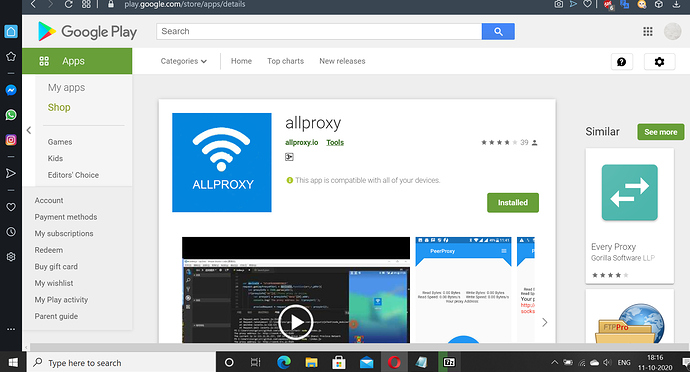 HOW TO USE PROXY IN YOUR ANDROID PHONE:
1.If you are connected to a Wifi in your android phone,follow these steps(Works for Android and Iphone Both)
Go to Wifi - Select the Wifi you are connected to - Go to advanced settings - Here you will see a proxy option which will be none/automatic by default - click the proxy option and set it to manual - Now it will ask for proxy details like Ip:Port:Username:Password so input all the details accordingly and save it.
Here you go,you can now use a proxy in your android and IOS phone with this method.
2.How to use Proxy in your Android phone when you are connected to your mobile data:
Go to settings - search 'Access Point Names'/ if you don't have an option to search then go to Connections- Mobile Networks and then select the 'Access point names' - Now Select the 'Add' Option - Now you will see many empty fields like Name,Apn,proxy,port,username,password etc. - Input anything in name and the apn function and then put your proxy details as per it has been given by your provider - If it's in the form of Ip:Port:Username:Password then input as it is and if the proxy is via the Ip authentication method then authenticate your Mobile Data's Ipv4 address with the proxy provider and leave the username and password field as it is - After you have filled out everything , just save the settings and go one step back.Now you will see one access point name of your original sim provider and the one which you have saved,just select the one which we have saved and there you go,now you can use proxies in your android phone.
If you have any doubts or you are stuck anywhere so just let me know and message me up,I hope this helps people who do things on their phone.
Thankyou.