As someone who has been in the Twitter account business for sometime, I've had my fair share of account suspensions. I usually think there is no point in appealing, so I just count my losses and move on.
However, I decided to start filing appeals and surprisingly some of my accounts got unsuspended. But what is more surprising is the reason Twitter gave for suspending those accounts, and it's always the same reason.
Here's a sample of the email I receive whenever they unsuspend my account.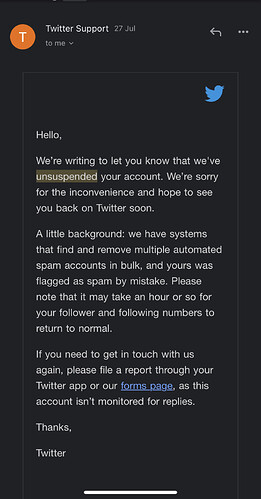 Now I realized Twitter suspends accounts for two major reasons
For breaking their rules
For doing absolutely nothing (They literally flag your account by mistake)
So far I've had about 50% success rate in unsuspending my accounts. They will either unsuspend the account and apologize for the mix up, or state clearly which rule you broke and why they will never unsuspend the account.
Although it usually take several days before you get a final decision from them, they sometimes respond very quickly. I recently had an account unsuspended less than 24 hours after filing an appeal.