Instagram is going to be getting a new set of useful tools and updates according to Facebook's announcements on their F8 developers conference. Looking at the most exciting features, from camera improvements to removing malicious content, Instagram is bound to improve by a big margin.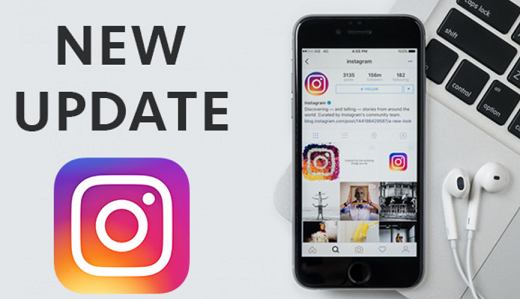 Bully/toxicity filters
Hate comments and insults are a common occurrence across all social media platforms. Instagram is taking a big step towards protecting their 800 million users by introducing a new system - a comments filter designed to stop the spread of hate and malicious messages directed to other people. It uses DeepText AI system, which learns automatically by categorising mean comments into groups.
Bullying is an unacceptable offense and every user with malicious intentions is going to be banned from the platform. Young public figures are also big targets of death threats and other degrading messages, and this is a good starting point in reducing the spread of cyber-bullying and allowing all voices to be heard.
Augmented reality effects
With the introduction of custom AR filters, Instagram is looking to make the app as fun and entertaining as possible. Both photo and video will be supported by this feature, applying face-tracking filters.
Partnerships with famous brands and public figures will bring many new, exclusive filters that add up to its uniqueness. A particular filter will be available to everyone as long as they are following that specific account that created it. Users will also be able to directly try them out if they see them used on their friends stories.
Floating effects can also be added to the background using the back camera. This feature is going to bring more customization, give people something to express themselves with and have playful conversations with their friends, while also promoting more appropriate filters to users.
Video chat support
Instagram responded to the people's pleas about video sharing in a small, more private manner by introducing video chat. The feature is going to be available in the upcoming weeks, and it will allow the users to chat one-on-one or with a group of friends up to three members, with no limitations to conversation length.
It is as simple as clicking the camera icon in the upper right hand corner of the direct message thread, with the option to minimize the video and continue browsing simultaneously. This could have an effect in bringing people closer together, having fun while hanging out or even help make some new friends.
Explore section and stories improvements
Explore page is about to be a lot more organized, with the addition of new topic channels while being powered by an AI. The main goal is making it more clean and organized, while keeping it personalized to the user. Photos and videos are now grouped into categories, beneath which are hashtags that are relevant to those categories allowing everyone to choose a topic of their liking.
Third-party apps support is coming with a new "sharing to stories" feature. Users are going to be able to express themselves a lot more easily, as sharing a particular song or a great shot is now available in the Spotify/GoPro app with a single tap of the share button. From there it is editable in the Instagram camera and a sticker with a link directly to that content is going to appear in their story.
These features are still undergoing tests, but they are soon going to be available to the public. Big leaps are made in terms of increasing the overall app friendliness and customization, ensuring that Instagram stays in a place of one of the most popular social media platforms ever.