Yes, of course. Sent you a DM.
Sure, sent you a DM.
Boris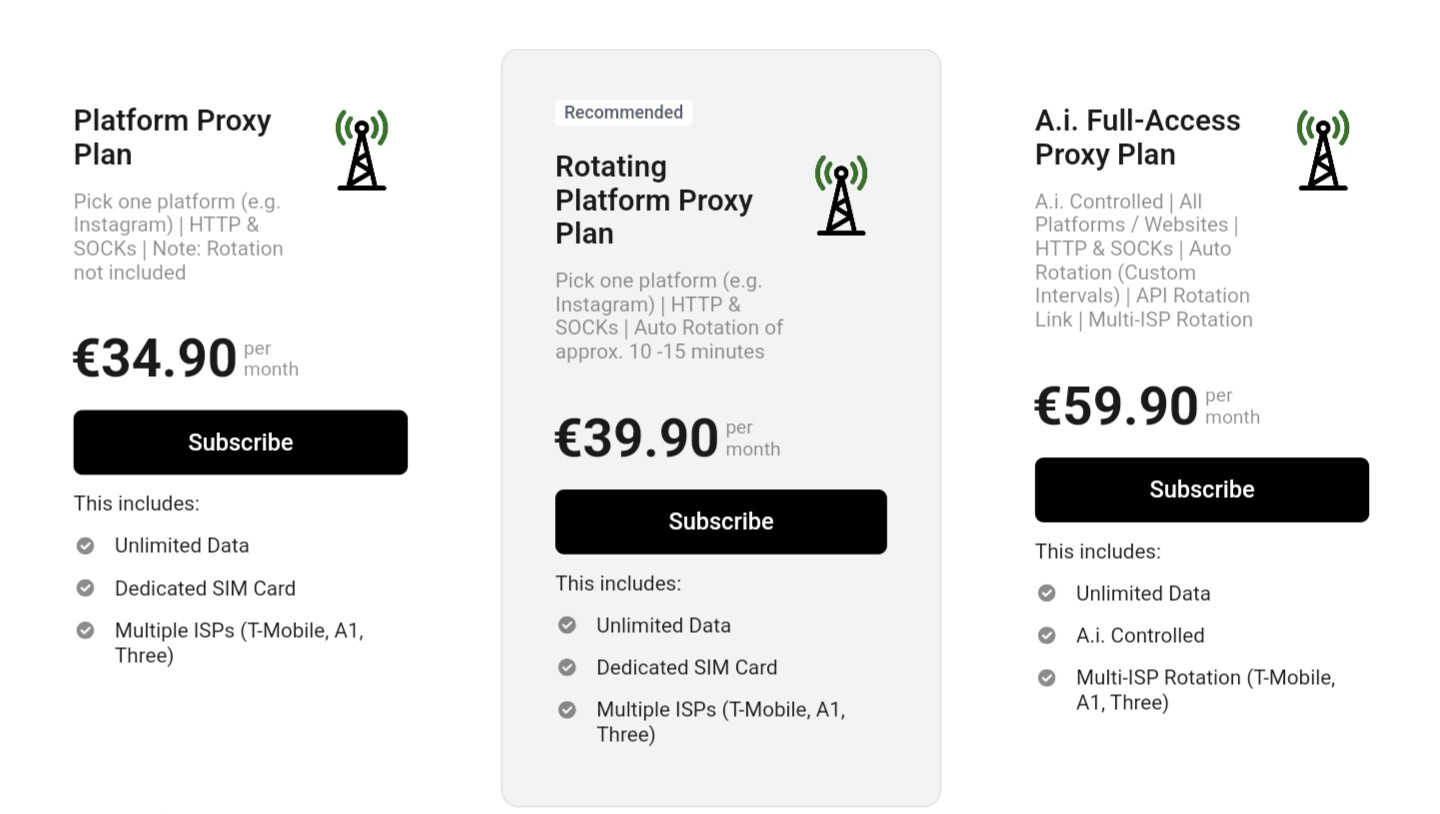 WE KNOW YOU DON'T ALWAYS NEED 80€ PER MONTH MOBILE PROXIES

… SO WE OFFER THEM MORE THAN 50% CHEAPER!
Note: we offer these

three plans. If you only need one platform (e.g. instagram) then get the Platform Proxy Plans (one has auto rotation, the other doesn't). You can add as many accounts as you like to these proxies. They start at less than 40€

per month (CreditCard, PayPal, Crypto).
The Full Access A.i. Proxy Plan is more for agencies and professionals who need API Links and multiple ISPs. We have a limited amount of these proxies and they are less than 60€ per month. More infos on the

website.
Note 2: the reason why our 5G/4G Mobile Proxies are ideal for any use (social media, scraping, privacy etc.) is that they are assigned by mobile cell phone operators. That means that 10s/100s of legit mobile phones are logged into their mobile network and sharing the same mobile IP. That is the reason why they don't get blocked. If they would block the proxy, they will also block 10s/100s of legit mobile phone users.
So it's very very rare that you are blocked because of the proxy and it's IP. It is usually because you are doing too many actions, at one time, on accounts that have not been warmed up correctly (wamed up does not mean old accounts, it means active for a few weeks and slowly doing more and more actions)
Note 3: don't worry so much about location with 5G/4G Mobile Proxies, they are basically location independent. What that means is that they are ranked more by tier levels (tier 1 being the best). Our proxies are from a tier 1 country, like Austria, mainly because it is not possible to get a mobile SIM card without providing official identification. The SIM needs to be registered by law.
Of course, if you are using a service that must have a specific location (e.g. TikTok, but there you will need a physical SIM card anyway) then pick the right location, but we have not seen any difference with mobile IPs. We suggest you try it.
Note 4: please don't ask us how to build your own proxy farm. That's like asking a pilot how to fly a

plane. It takes education and experience. Most people just buy a plane ticket

PS: Ask us about this feature if you are using JV, SU or similar software


PSS: If needed, we offer HTTP3 and QUIC (Quick UDP Internet Connections) for agencies and professional users.
¬¬¬¬¬¬¬¬¬¬¬¬¬¬¬¬¬¬¬¬¬¬¬¬¬¬

A.i. controlled 5G/4G+ Mobile Proxies


Less BLOCKS, More ACTIONS & Instant Results
Free Trial via our Telegram!

Ai Powered Mobile Proxies!

Use with 100s of Accounts!

Massiv Discounts for 3+ Proxies!

Specifically made for Instagram & co!

Low Ping and DNS & IMEI optimized

TIER 1 locations in western Europe (Austria)

We are located in Austria

Europe, so we physically can only supply mobile proxies from here.
You can contact us on Telegram @ProxyDoctor
to find out more.

Mobile Proxies starting at 34.90€/month


We accept over 200+ different Crypto Coins
Boris out.


www.Proxy.Doctor


sales @ proxy . doctor
TG @ProxyDoctor