Instagram seems to be the platform of choice nowadays. Everybody wants to get in on the action, mostly because they perceive it as being a fast moving platform where you can start gaining some money in a short amount of time.
This might be the case for some, but there are many people that manage to grow an account or more and get stuck not knowing how to actually make money from them.
These might be known tactics for some of you that are more advanced and I definitely won't go in-depth with them because there's a lot to say but they will give you an idea of what you can do and how to proceed with your research.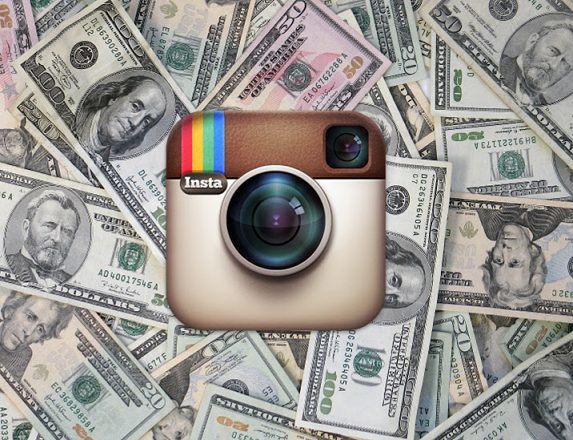 You've heard the stories.
People are making great online income by leveraging social media. Even teenagers are paying their college by building incredible followings on the latest trending network. How do they do it?
Instagram is one of the fastest-growing social platforms right now, but it's also ripe with opportunity for growth, building incredible engagement and making a lot of money.
Let's walk through 7 different ways to make money on Instagram.
#1. Selling Products and Services
If you are an entrepreneur, you probably already have products or services that you offer as part of your business. The obvious choice is to promote your products on Instagram. That is if you want to earn more money…

You can do this by capturing leads with your Instagram content. First, you build your Instagram account with motivational or educational content that will inspire your audience. Then you post call to actions on all your posts to get your followers to click on the link in your bio. The link will send them to a landing page designed to attract leads that will be converted ("leveraged") with different mechanisms later on.
Or you can directly sell your physical product right there on Instagram. Like, for example, @frank_bod - these guys are doing an amazing job selling physical products.
Or you can sell services, if you have a local business. You can promote different discounts or deals on your Instagram page.
So this mostly depends on the type of business you have. Either you build a huge mailing list that you can monetize, or you directly sell physical products.
#2. Paid shoutouts
This is pretty much like advertising. Companies will often pay popular Instagrammers in their niche to showcase their products or services to their audiences. According to this Yahoo! article Instagrammers can charge anywhere from $700-$4000 for a single shoutout.
Some of the largest Instagram accounts can even become ambassadors for the companies they're working with.
These sponsored posts can be perfectly integrated into the feeds, so they look native, more like a recommendation than an ad. That's actually what makes them so efficient in the first place.
So, for example, if you go to the @achieveimpossible page, you'll see they're recommending this free program. This is for sure something he's getting paid to post.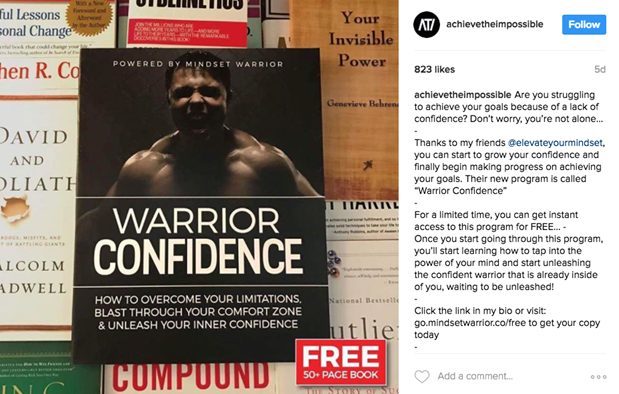 Some influencers even started to add #sponsored or #ad hashtags to the post they are getting paid for.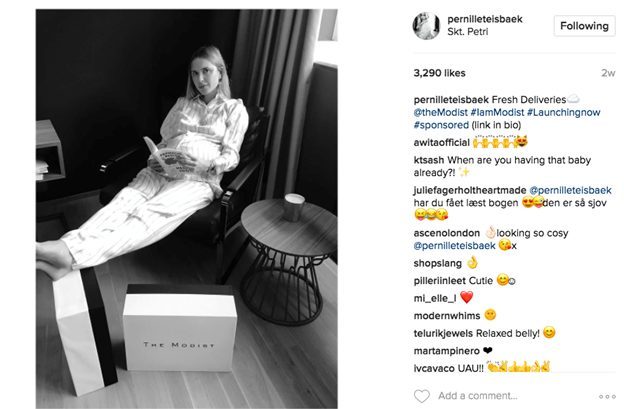 This is an interesting article about how much you can make with an Instagram account, depending on the niche.
#3. Working with other brands
Many Instagrammers work with other brands that sponsor their content. This can be a very profitable method to increase revenue. The more followers you have, the more money you can make from sponsorships.
Collaboration with other brands vary depending on the niche or brand. But basically you get free products or services to promote to your audience.
#4. Affiliate marketing
You don't need to have a product of your own to make money on Instagram. With affiliate marketing, you can promote other people's products and make money out of each successful conversion.
Here are some examples of Instagram accounts that make a lot of money from affiliate sales:
@buildyourempire is one example of Instagram account that promotes affiliate products. He sends his Instagram followers to a landing page designed to lead the visitors to the affiliate products he promotes and makes a lot of money doing affiliate promotion.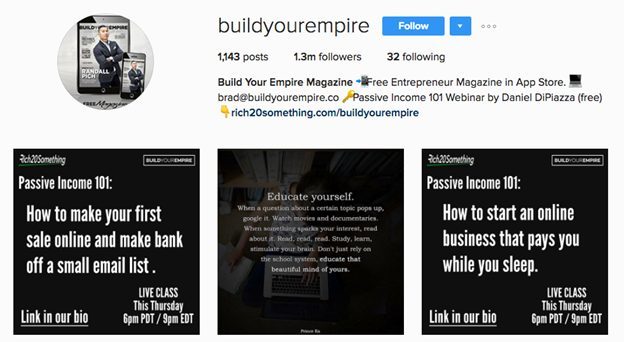 #5. CPA
This is much like affiliate marketing. You need to find your CPA offer and then make money every time someone does an action like signing up for example.
It's best to search for offers in your niche to get good conversion rates. If your niche is fitness or health related, then you're in luck because these niches convert really well.
I would take care if I were you when doing this though as CPA it not very well regarded by Ig and this tactic might get you account closed faster than all the others( It can be the fastest earner though, that's why many people do try it)
#6. Sell your Instagram account
Another way to make significant revenue is by building Instagram accounts with impressive following and engagement and then selling them. Depending on the niche and the size of the accounts you can make impressive amounts of money by selling them.
#7. Instagram Consulting
Another thing you can do to make a lot of money is by offering consulting services for other businesses on how to grow their Instagram accounts and influence. This is an excellent way to monetize your account and knowledge.
You can charge between $500 to few thousands dollars per month for one client. This means you can make up to $10k per month with 10 clients for example.
#8. Managing other people's accounts
This is an extended version of the above method where you also take care of their accounts, not only tell them what to do. Whereas the above method can be a one timer, managing another company's Ig account can be quite profitable for a longer period of time ( especially if you're good at it

)
#Conclusion
As you can see there are many things you can do on Instagram to make a nice living, there are other things you can do, that is true, but these are the main ones that if done the right way can and will make you decent



Fell free to comment on these or add you own twists so everyone just starting with Ig marketing can get a better idea of what they can do.