So a couple days ago, I check on Jarvee and I see this: (click the image and see the whole thing)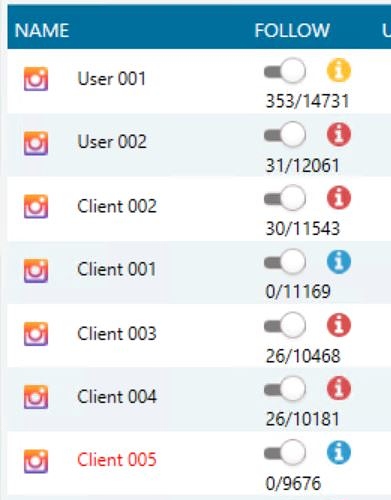 I run Instagram accounts on Jarvee for 20 clients. I use ten "Instagram proxies" from highproxies, and have 1-3 accounts on each. I have come to the conclusion that Instagram has simply blacklisted many or all of the "Instagram proxies" provided by highproxies. I also believe it has to do with the fact that these proxies were linked to data servers, which Instagram can identify.
I have told my clients that due to "technical difficulties" their automation will be paused for a maximum of 48 hours, while I search for the best alternative. That was 36 hours ago.
In my research I've recently learned about mobile proxies, which I thought could be the best way for me to go, but they are not affordable for me (that I've found).
I also am trying to understand why some people "rotate proxies." This is a very confusing topic for me because I thought the more IPs an account logs in from, the more attention it will draw from Instagram.
Anyway I bought a rotating proxy to try out. Seems to work fine for the 2 accounts I am currently testing it with (Another confusing thing: it apparently rotates by itself between 5 IPs, and I thought I was gonna have to enable some rotate-proxy feature on Jarvee but is that not the case?). BTW the site was blazingseo that I bought the rotating proxy and it was $11.
After asking some questions with their support I learned that they recommend one account per proxy. Which…I was planning to use 3-4 on these, so that's unfortunate. I'm not really interested in buying an $11 rotating proxy for every single client.
I'm now a bit discouraged. I found a site with promising reviews that has Instagram-optimized proxies that have a "mobile footprint" (I'm not totally sure what that means but it sounds ideal). These proxies are affordable, and only slightly higher cost than the ones I was using from highproxies. Also, they only have proxy IPs from Russia. I was hoping for U.S. based proxies because that's where all of my clients (except one) are based.
I'm going to throw another $40 to RSocks (that's the site name) and see if these will work. I really hate that I'd be accessing clients accounts with Russia IP, but really hoping this won't bother Instagram. I doubt there's many users who use IG daily from 2 different countries

So…now that I have demonstrated how clueless and lost I am, does anyone have any advice, feedback, questions, or comments?