Hey guys !
So today I was looking for evidences about the kind of logging events that instagram implements on their website and while dwelving deeper into their code I was very surprised to find this very explicitily declared in one of their javascript files

I find this a very valuable and useful piece of information and it provides a great insight on the kind of fingerprints Instagram looks for on every client .
So without further due, here is the piece of code that gives us pretty much every possible fingerprint that you will need to avoid if you want to stay 100% off the radar

It's way more information than I could have ever imagined , some of these I was already aware of and you can find such evidence by checking the invisible app permissions of android app for example .
But that's really just a small part of everything they are logging … it's pretty scary to be honest !
Here's some of the most relevant logging events that you can check on this code :
CLOUD_HOSTING_SCORE
DEVICE_MAC_ADDRESSES
APP_CERTIFICATES_HASHES
BATTERY_STATUS (They have battery to all your battery stats, temperature, etc)
DISPLAY_REAL_SIZE
APP_INSTALLER_PACKAGE_NAME
ALL_INSTALLED_PACKAGES
SYSTEM_INSTALLED_PACKAGES
BUILD_FINGERPRINT
PROXIMITY_SENSOR (And every other kind of sensor in your phone)
IS_USER_A_MONKEY
BLUETOOTH_ADAPTER_ADDRESS
BLUETOOTH_PAIRED_DEVICES
TELEPHONY_SIM_OPERATOR
IS_MOBILE_DATA_ENABLED
WIFI_SSID
IS_IGNORING_INTERACTION_EVENTS
IOS_LOCALE_COUNTRY_CODE
IOS_PROXY_SETTINGS
IS_JAILBROKEN
WINDOW_OUTER_DIMENSION
MOUSE_POSITION
SCROLL_POSITION
MOUSE_CLICK
ADVERTISING_ID
Check the file with the full fingerprint tracking list and you will understand that theorethically they can fingerprint any device uniquely in a very easy way .
And here are all the hidden permissions for the Android App as well :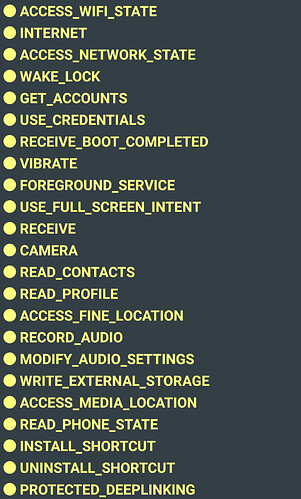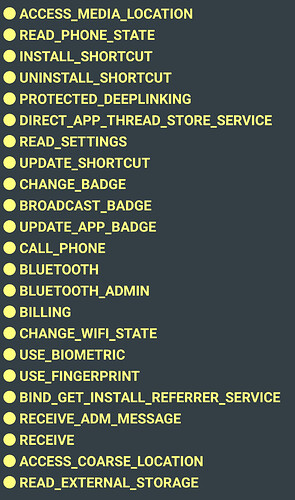 I believe that even though all these parameters are logged not all are being actively used by their algorithm for bot detection etc , but I think it shows us that even if you are changing your advertising ids, factory resetting or whatever you may think of, at the end of the day they could still identify you by many other fingerprints such as your battery level, sim operator or whatever . .
I hope this will be useful in giving everyone a better understanding of the kind of activity logging Instagram does these days, and also in achieving a better trust score with our automations