Hi everyone,
Updating on what, yes, has been talked about in other topics but just wanted to share my personal experience thus far.
For the longest time action blocks were absolutely making me rip my hair out from changing proxies, resetting Device ID, resting accounts for days, tweaking settings on and on and on.
The first time in awhile now I am consistently breaking past 100+ follows per day on multiple accounts. Prior it was a few and majority would get blocked at like 40 follows. I believe what has helped tremendously which was stated before (I forget your name please comment so I can give credit) was clearing the cookies. After I did this for any account with a follow block I noticed a much smoother warm up the next day.
Also as mentioned which has been crucial is what I now do for every single account is log in the account via VPN to the clients location. After logged in to say "New York" I will click for account to stay valid when changing proxy and to not reset Device ID. Then I simply go and put the account onto my mobile proxy and Badabing Badaboom we are all good to go. None of these stats are even close to what I was able to do before and we all know it has been a struggle but we do still have life.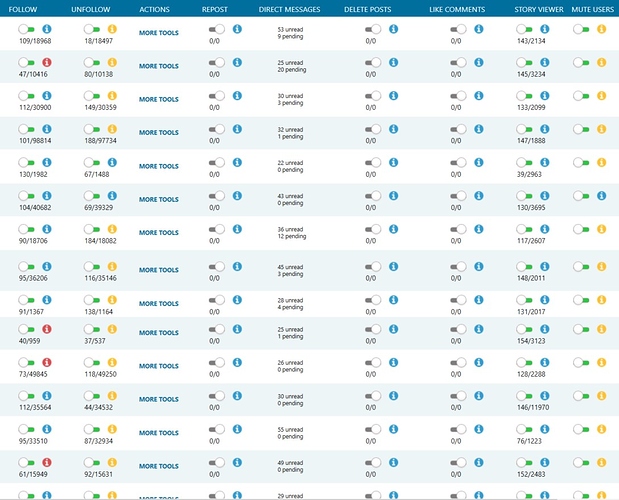 Any of the red alerts in this screenshot are due to proxy error.
If you have any questions please feel free!