Does anybody know how to get traffic from Flipboard?
Use a lot of alt text in images, as well as rich snippets. Certain long tail keywords will get you into the main "explore" pages.
Follow and unfollow a ton of people, and like anything else occasionally like and comment.
It's key to hit the explore pages. I have multiple accounts and flip as much as I can.
1)How many accs should I have? For example to get 100 visitors to my website.
2) I don`t get how to put where my pics from my articles? It upload automatically images when I flip articles.
3) Does following help? How to follow ton people without bot? I think I will be banned
It's hard to Flipboard without about but you can still get traffic. You need a quality article though. There is a flipboard extension for chrome. That allows you to set the cover image.
You won't get banned for following and unfollowing, it's just a pain in the butt.
So with only I account I can follow 1000000000 followers?


I use Flip it chrome exten but it doesn`t allow me to upload my own images only from preview images from website
I don't know the limits of how many people you can follow, and no the extension doesn't allow you to upload, it only allows you to choose the cover photo.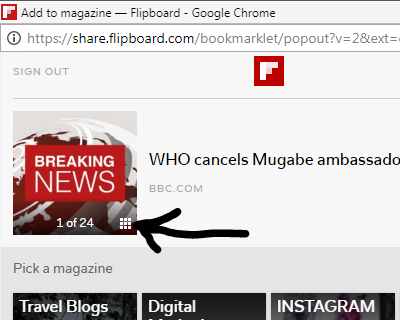 ---
You select the cover photo image from there. It won't upload to your article, so have a blog with a good header image and choose it.
Yes I know. But I don`t get how people can find me, because flipboard search looks ugly. do you have some sort of statistic? How minimum articles I must have for getting results? Does any sense to use 10 fake acc? And what is publisher account? There are 2 types account? Personal and publisher? Which I must to use?