How can i do that ? Manually its difficult and boring
You don't need proxies for manual work

How ? I dont know about using proxy, sorry. If you can help me. I used to do manually or buying services in SMM panel
manuall bot… real phone with automation.
Can someone share some light on this? Would love to know this too

When I export, there's a column with the Insta URL. I then just click on the link on my phone and it takes me right to the IG profile.
Thanks for sharing!! So insta won't know you have been clicking links and following hundreds of accounts daily? If this really works, it will be much easier to operate manually👍🏻
Well, if you just click the links and follow, then repeat very fast, you'll get a block after about 20 follows or so in my experience. Good to mix things up a bit.
Okay so this is what I do.
I scrape users using Jv then i "Copy All usernames" on the scrapped accounts.
I then go to something like: https://textmechanic.com/text-tools/basic-text-tools/add-prefixsuffix-into-line/
and paste all the username into their and then add the prefix "https://instagram.com/"
and then I add 5 coloumns on Excel:
Links
Usernames
Followed
Unfollowed
Followed Back
I add "links" and "usernames" because if you copy the urls from the site i mentioned above, they dont automatically get put to hyperlinks in excel as a result you can just click on them.
See pic below:

So on the left column where all my links are you put the following: you press the "fx" or function sign (its displayed right next to where you can see the contents of the cell that you have selected) you can find and press hyperlink. Then for link location you put in the cell location of the first link, so in my case it will be B3 and then put B3 again in friendly name.
Then ones that is done then you should have a hyperlink for the urls that you copied from the website mentioned above.
To get all your urls to be hyperlinks you click on the little square box then i have shown in the image below and drag that down until you get to the end of all your urls that you have put in from the website that i mentioned.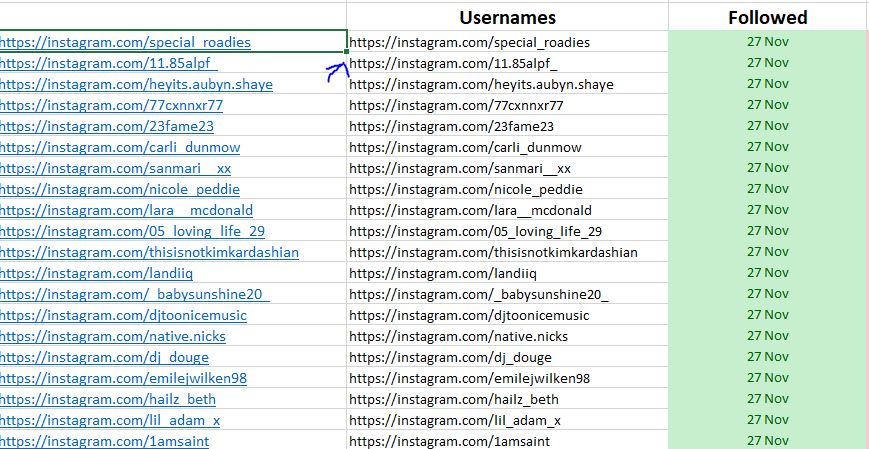 Once that is done I then just hide the "Usernames" Column by right clicking on the Column name "B" and then press Hide.
I hope this helps. If you have any questions, feel free to DM me, and leave a friendly <3 if you found this post helpful please #lvl2things
Thanks in advance.
this is an amazing tutorial cheers to you
To clarify, you are performing all these actions in the EB on your computer?
This is basically what I have been doing but with lesser results and more blocks. I get one to two blocks a month and average 20 - 40 followers per day.