Is jarvee working fine now?
I am disappointed today.
are you okay?
If you intend to use a bot for clients/Main account, we are bound to be disappointed!! Not just Jarvee, no bot works like the official app and are bound to get verifications
Having said that, Jarvee along with all the other major bots work just fine for mass operations like Mother slave or DMs.
The current situation is despite the fact that the source
The tool is not working properly.
Can you elaborate more on the issue that you are currently facing?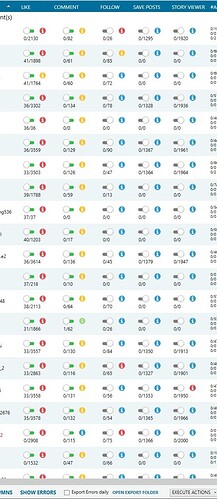 the search took more than 20 minutes and was aborther, please loosen up your settings/adjust your sources
My sources are based on a specific user base.
It does not work even if there is a specific user.
The like tool and comment tool don't work.
I have a scraper, and I have the sauce.
Still can't find the source and it doesn't move.
It's the same when you log in again.
do you have enough valid scrapers?
I'm running 250 accounts
There are close to 600 scrapers.
well are they vaild and not scraped blocked? in my case i am using 2k scrapers per 250 accounts…
Yes, that's right.
I have a question bro!
How active is your primary account?
2K scraper
How much do you replenish your scraper per month?
Or how many scrapers stop per month
my scrapers are working fine for month already - maybe 10 a month are dying…
I have about 2500 per 150 clients and lose 50-70 per day.
I'm doing max 200 calls per day - too many you think? If I drop to 150 I'll likely need to add another 500-1000 scrapers.
Wow this looks great. Are you using EB or API?
Are you not getting capchas for those who are following 175/day? Sad for me still getting capchas even if following around 50 only.
hey mate, this really looks great, so you do 300+ actions per day combined F/U on client's acc and no blocks or issues over longer period?
Why dont you scrape specify usernames and use them as sources?
The captcha is easy to handle in fact. Make subscriptions with your hands in the browser and I think you will understand how to cope with it
Yes, no problem. Everything works fine
The problem was caused by the proxy.
Now it's resolved.
Thanks to everyone who helped.