INTRO
So I haven't really posted all that much on MP Social and felt it was time to put myself out there a bit more.
Full disclosure I am no tech wiz but I read a lot of good content on this website and look all across the web to learn more about internet marketing.
I am from the UK but I reside in the USA…not much relevance but just thought you should know

WHY?
I feel by documenting my ventures I will hold myself more accountable to continuously post in hopes that you guys will have some form of interest in seeing what I am up to and maybe joining me on the journey.

GOALS
I am currently looking to build up to a stable 100 accounts all promoting the same main account. I am also looking to get to 1000 followers in a single day.
This is an adult themed account and I am monetizing it.
There isn't really much of a goal as far as money as that will follow along with the first two goals when I achieve them.
CURRENT STATE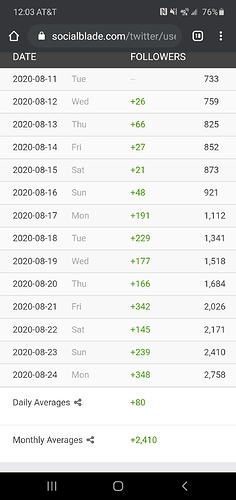 As you can see this is a pretty new acount. Though I have been pleasantly surprised with the growth early on. I have managed to grasp twitters limits and what is and is not working currently. This has allowed me to not spend too long testing before starting to scale. I am doing these numbers with 31 accounts currently.
The bot I am using is struggling with regards to twitter right now so the last few days took a hit but got it back on track now.
Daily Limits
Follows: 180-200 Max

Unfollows: 200-220 Max

Retweet: 1

Direct Messages: 40
As far as the Proxies go I am using a mixture of 4g and data center to see how this effects the accounts in the long run. I am using 4g proxies from someone in the forum,
though I am not going to say who. Just know if you get stuck on certain areas when doing this that I found all my solutions in this forum.
As far as PVA goes this was a tricky one!

I used google voice accounts top start with but seemingly twitter has caught on to this and stopped the use of those numbers.


Sim cards are the way I believe and that is the direction I am taking.
Keep reading, keep learning.
To Sum Up
I am looking to make friends along this journey and exchange ideas in hopes to further improve each other. If you have any questions please post them in the comments as opposed to sending me a message. This is in hopes that others will be able to see and maybe find valuable information to help them along their journey.
If you see any ways I could further improve this as I continue to update the journey feel free to let me know. I am all for constructive criticism!


I hope this wasn't too painful to read through and you still have some interest


If so be sure to follow along and I look forward to hearing from you!

Current Stats
Main Account: 3466 followers

Network Accounts: 12,560 followers/ 31 accounts