Hey everyone, it's been a long time since I've posted useful thread, so let's share one.
I had to do some promotion on FB and thought that sending PMs will work best. Now, with all those Facebook changes made in last couple of years and their strict policy about sending PMs to non friends, I couldn't reach many users with just one profile. Maybe 50 PMs per day, but that's it.
Then it came to my mind. What if I can send 1 message and get same or even better effect? So, this is what I've done…
The niche that I promoted isn't really matter, but to explain it better, let's say it's a baby product that moms could be interested in.
So, I created a page, named it nicely, something like "Moms United" or whatever you choose, and shared link to my offer there.
Next thing I did is found niche related Facebook groups and shared my post there. That's it.


I'm joking of course…

After finding groups, I would extract users from groups so I'd got their names and profile's URL. It would look something like this:
So, we have their Name, Profile's URL, Group Name and Group URL… basically, we have a mess since all we need is their Facebook username.
If your exported file is separated with comma's then you'll have to do a little bit editing. Save file in csv on your desktop, open it with notepad++ and use Find and Replace tool to replace commas with ;
Save file and open it in Excel again. Now all data should be sorted by columns.
Since we have them all in columns, we can easily delete Name, Group Name and Group URL columns so we're left only with Profiles' URLs. We'll use Find and Replace in Excel to replace https://www.facebook.com/ with nothing

That's in order to get list of usernames.
It should look like this: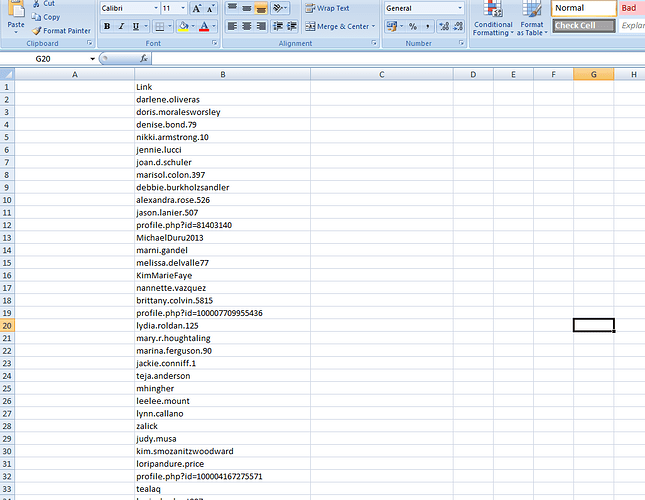 OK. We're now ready to start.
Let's go back to FB page where we shared our link and click on Share below the post, then click on "Send as message". Now you're able to enter your text (message) and you have link preview below.
At the top of pop up window, you have TO field, copy paste first name from the list, press arrow down key and press enter. We have one user added to group message.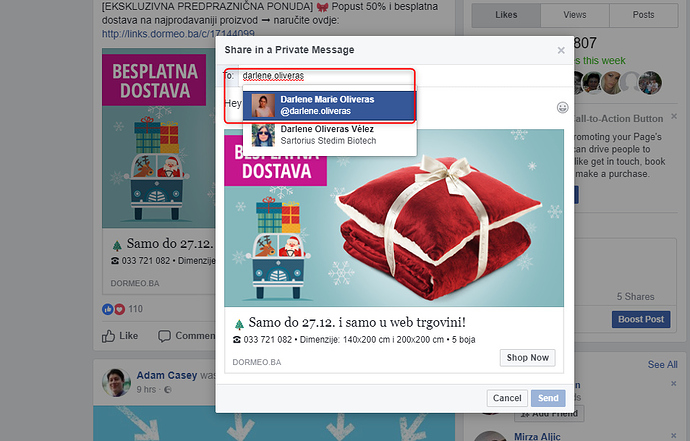 Now go back to your excel sheet and copy new username and paste it again to TO field, press enter… Rinse and repeat. You'll end up with something like this:
I've added about 70+ users here in order to show you how it works, but it's possible to add more. The most I've done is 150 in one group message and about 1000 users in a day. No any restrictions from FB.
So, click SEND and you're good to go.
I'd recommend sending these messages to 100 users maximum because there's an issue that occurs sometimes. The problem is, if one of the users from the list doesn't accept messages from non-friends. In this case, your message won't be sent and you'll have to find that user in order to remove it from the list.
Another thing, avoid adding users without username, for example: "profile.php?id=100001503XXXXXX" because you can't add them at all

just losing time there.
It probably sounds like time consuming, but adding 100 users when you get used to CTRL+C/ALT+TAB/CTRL+V can be done in less than 5 minutes.
There you go, it's a manual work, but it brings results. Users see the message, some will be hostile because you added them, but hey, what can you do

Don't use your real profile for this.
Note: This is public part of forum, so please, you know…