yeah I know but its a major pain if your dealing with 100s of accounts
Yes i am and it happens daily - usually after we've done a manual follow too. ;(
Hi, is your account unlock as i experience a same issue of call not coming. is by doing above as you said will my account unlock
Hi @deb , the call function should now be working as they have fixed the issue, but yes the way i've said has worked many times for me.
Whenever i hit call me they doesnt call and problem continuos. now i do as you said and wait for 2days. And Thank you for reply.
Any luck or wisdom to pass on? I am now in the same boat. I press call me and nothing. I reset my password and those twxts came through to the same number without issue. So frustrated.
Hi @arlene_ferris please see earlier post:
"I've had this now happen on several accounts:
What you have to do is:
Go through support
Raise a ticket about your locked account and then copy and paste what you have wrote.
Wait for auto reply from twitter which tells you to reply back to the automated email.
Paste your copy into the email and send
Approx 1-2 days your account becomes unlocked but they never reply to your email."
i had the same thing happen several times over the last month. aged accounts. all verified, i did nothing new to settings. now they are all down again for the 4th time and i cant get the call back. i have tickets and will see. i am wondering if they have changed settings their side of things
Hi. your description wasn't clear for me. may i have more help here? my account is locked and the situation is like you said. but i don't get it, about support, ticket and your solution for this. raising a ticket? what's that mean? sorry, my account is lucked for 2 weeks now. it's really annoying. i send them an email and wrote my problem but noting changed.
Hi @mojaaa
Please go to > https://support.twitter.com/articles/20171312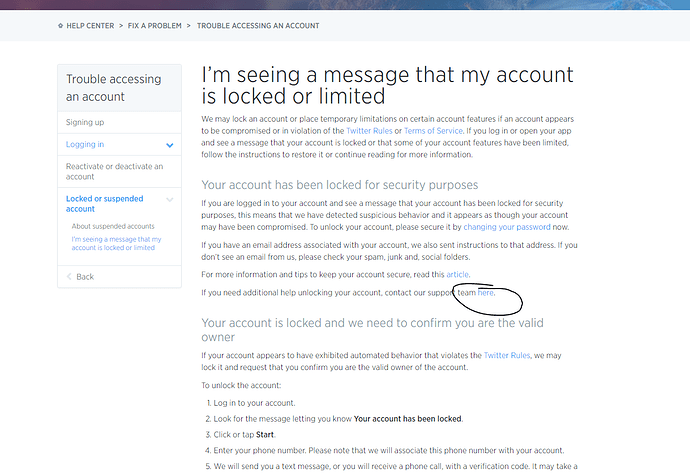 Hi! Can I also ask for help? My account is locked for two days now. The only option is for twitter to call my phone number (I have no email connected to my account, just phone number) and it keeps saying that the carrier is currently not supported. How do I fix this? I sent an email to twitter support, I got an automated reply with instructions that are not necessary, I replied as they asked me to send a reply if it didn't work but I don't get a reply then.
Hi, you just need to go through the support process and tell them that the phone call or sms is not coming through to your phone and there must be an issue with their callback service and can they look into it and unlock your account. 9 times out of 10 this works.
im having problems with mine and i just followed what you said…i hope it works
hi great advice thank you! would this work with unblocking action blocks ? or accounts that are banned ?
Did it work now? Because I have the same issue now and I really don't know what to do
hello i am currently having a problem on twitter where it is locked and it says "Sorry the request failed. Please try again later." Please help