This is a cool feature not available on other forum platforms that I've used so I wanted to talk a little about it and let everyone know what it is and what it's for.
A user card is what pops up when you click on a user's avatar or username inside of a topic, on a topic page such as Latest, or on a user mention (an @username).
It will give a quick view of the most important information for that user like his details and achievements on the forum. It looks like this :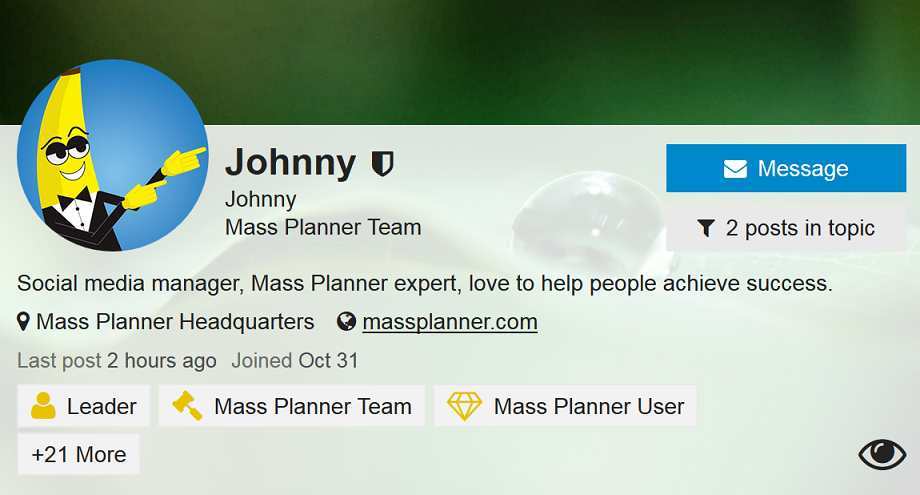 What you can find here is:
the avatar ( clicking it will lead you to that user's profile page)
the username
the actual name of the user ( what he/she entered in his/her settings)
the title ( This is editable, you can use certain badges when you receive them to edit your title in settings)
short bio description (up to 3 lines - if added by the user)
location ( if added by the user)
url ( if added by the user)
time of the last post
join date
The trust level badge ( Leader in this case) and 2 of the top badges as well as a link to all the badges the user received
in the lower right corner you will notice the User Card Badge ( the eye in this case - certain badges you receive can be added to your User Card, others can be added as a title).
each user can set a user card background, like you see on the background of this user card. ( this gives more uniqueness to each user card).
in the top right corner you will notice a message button, you can send a personal message to someone by clicking that.
underneath the message box is the posts in a topic filter ( read below for more details).
The posts in a topic filter shows up when you click a user card inside a topic. If that user replied more than 1 times to that topic it will show up here how many times he replied.
If you click this filter, it will show you that topic with only that user's posts. So if you like a certain member and want to follow everything he/she said during a long topic you can use this to filter out everything else.
One last thing, a user card will also show if a user has been suspended, should that unfortunately be the case.
Hope this makes everything more clear, if you have questions fire away!