Interesting community topics for beginners:

BRANDING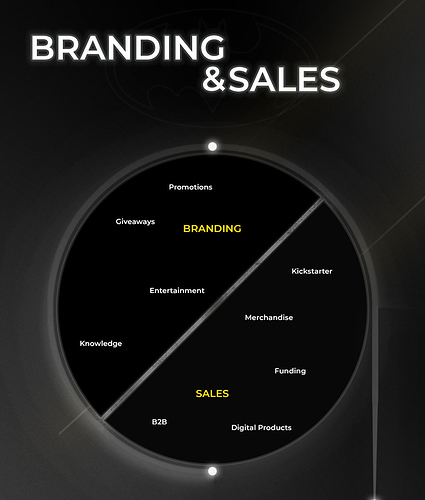 Now while it is great to provide people with things they like for free, we have to stay alive as a company as well.

The brand I created was never intended to push products down their fans/customers throat but to create awareness and focus at specific topics from the community.

The question here is: What would a good way be to create a stream that keeps the company/brand thriving without appearing like that's our main purpose?
An example mentioned was to create offline/online events with close customers/fans to strenghten the bond between them and you which is a great plan.
Please use this topic to gather thoughts and ideas for brand building in general and I'll categorize and edit it in here!
Collect:
Marketing
Create content to make people engage in every form possible or specific to your brand (written, video, audio, VR, images)

Getting famous people or influencers to wear or use your products, as in influencer marketing. Humans follow and look up to celebrities or people with a lot of followers. Its human nature. Even if its subconsciously your products will get reputation.

Selling a really good quality product that customers can tell a lot of time went into it. High quality. If there is a choice between a high quality product and a lower quality product and a price difference. People will most likely pay a little more to get the higher quality product. (I do). Rather than buy a cheap version and it breaks etc.

This goes with number two but presentation . Your pictures or presentation of your product/brand is everything. Awesome pictures that represent your product will help greatly. Especially if your product is online or only online, you need great pictures. This is the only way customers see your items since they cant touch, feel, or try them on or test them your pictures need to be good.
B2C
Great customer service . So many times I see people post online "Customer wants a refund, should I refund them?" or "Should I allow a return from this customer and refund them?". Of course you fuckin should (unless its the customers fault etc.) And you should be nice about it too. They are the customer paying you for a product.

Aquring promo codes or rare opportunities from popular companies to give to your fanbase

Keeping an eye out on the most engaged fans, not only with your content but with your products. Forming a good relationship with those who will flash your products and praise your brand.
B2B
Contact companies in your line of business to obtain their products or special promos for your own fanbase, stay away from direct competitors.
Tools OTT
Making them join a email list that can be ,once big enough, used for sales & branding alike

Offline/Online events with value for viewers/visitors (Merchandise presentation, introducing your brand as what you think it is, promotions in collaboration,…)