Can anyone send DM to the new followers today?
Hey - are you checking to see that the DM is actually sticking when you send it manually via the EB? It will show up like it sticks, but if you close the EB and re-open it and go into the DM inbox - the account name is there but the DM is blank.
This is happening for 100% of our accounts.
Blocks on all of my accounts too, got some running on EB, some API. Different proxies as well, some DC, some 4g. Some managed to send out 1-4 yesterday but then got blocked.
Any other tools than the most popular having this issue?
hey, where can i find this tab? can you send a screenshot of it?
The tab where you see who followed you and who liked your photos (in the official IG app)
im getting the same issue and im not using JV , dm to targets has been affected. i wonder if an update has been rolled out… it has been like this a few weeks. clearing cookies on each account used to restart the account and send dms effectively
still errors as of today, gg
anyone got any response from customer service yet? absolute killer for me, the biggest selling point of my service is DMs
Same here, really need this to start working
Nope! I've not even had an acknowledgement or a reply! It's killing me
one of the reasons we as a company survived summer-pocalypse was the fact that we never sold "followers or likes" but actual real business opportunities by putting some marketing brain into the strategy as a whole…
Same here man - my email inbox is blowing up as its now been 4 days without a DM sent for my clients!
We are running extremely moderate settings as well: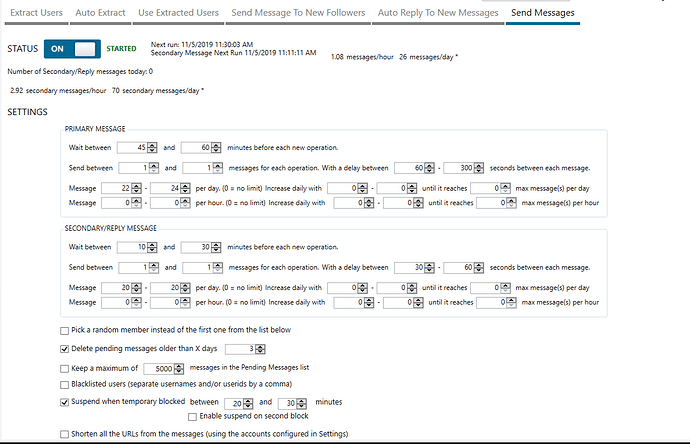 sending even less, lol…
15-20 a day
you guys still have this issue?
yeah still having it and each dm the dm block happen the accounts gets an instant PV or EV or AC, i tried using the latest jv and sending dms with eb it worked a little i send like 8 Dms but later i received another error , not 202 but 43 https://ibb.co/CKRTNsc
Has anyone gotten any response at all from support? This seems like a major issue…
even EB has blocks, you need to delete cookies after a while which can put your account in Email confirmation state if you do that too much, api is the best way to dm smoothly
having the same problem
can't send even one DM