Hey everyone! Back at it again with another huge value bomb


A lot (or even most) of the people here are into IG, so today I'm going to show you guys how to monetize your IG accounts in smart ways and potentially make hundreds of dollars every single day.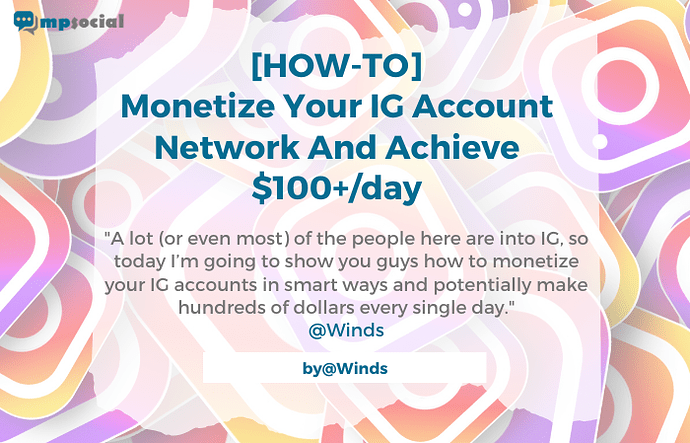 ---
Let's start from the basics: Shoutouts
Yup, I suppose that everyone knows about shoutouts, however, there's a smart way to get more shoutouts. Shoutcart is a website that enables you to advertise your page to people who are already searching for shoutouts. Just list your page there, you might get a sale after all. I usually take more in Shoutcart due to fees, but take a look at your competition there and try to offer cheaper pricing (depends on the status of your account). Essentially, the best way to get shoutouts is to beat the competition at the start.
---
CPA
CPA Marketing (cost-per-action marketing) is a pretty known term in the IM worls. However, there are a bunch of ways to monetize your accounts using CPA, whether you're going for blackhat or whitehat niches. In this guide I'll show a few examples, but feel free to brainstorm and find some for yourself.
If you don't know what CPA marketing is feel free to learn more here.
Meme pages: If you got a meme page monetizing your account is pretty easy since your demographic is fairly young. A great way to monetize your page is to offer something like "Free Snapchat Score" or "Free TikTok views", believe it or not, these kind of niches work amazing on meme pages. Here's an example of a site that offers free Snapchat score. Now, here's the thing, upon completing the locker they won't receive anything, therefore this is technically a "blackhat" niche, however, there are a bunch of whitehat niches that work.
Niche pages: Provide value. If, for example, your account niche is fitness, offer a "free training plan" or a "free fitness plan". Make sure to design a nice landing page as well. When they get to the locker, tell them that it's just to support your page and it'll not take more than 2-3 minutes.
Another great idea: Let's say that you're a music producer, you can offer free samples/presets for completing a locker, easy as that.
Conclusion: every niche has value to provide.
The best CPA networks for content locking are OGAds and CPABuild (as far as I know CPABuild converts better). If you're having problems with getting accepted to these networks let me know and I'll get you approved.

PROS: Extremely repeatable
CONS: Small commissions, a lot of conversions are required
PSA: This strategy works, here's one day of advertising on several accounts from my network (OGAds):

(Tried on 2 big meme pages, conversion rate is insane due to smart targeting and a beautiful landing page)
---
Affiliate Marketing
While CPA is technically affiliate marketing, we're going to take a look at some non-incentive affiliate marketing offers. In this case, I'm going to show you how you can promote products and gain huge commissions from them.
Clickbank is an affiliate marketing network that lets your promote digital products for a commission. Depends on your niche, you can easily promote one of the products there and make more money than an average shoutout.
For example: if your account is in the Diet niche, you have a lot of offers to promote.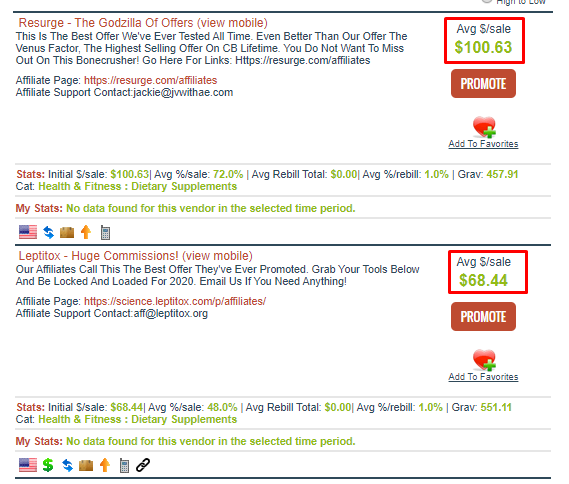 These are offers that are in the diet niche, as you can see, just from one sale you can make $100/day.
How to choose a good offer:
Something that is related to your niche
Something with good copywriting and a good landing page
Something that provides value
Solves a problem or teaches a skill
There are a bunch of other affiliate networks as well, feel free to do your research about them.


PROS: No customer service/returns/shipping
CONS: You're getting a cut
---
AdSense (with CPA)
Honestly, this is one of my favorite ways of making money with an IG page. Why?
You're creating a real community
You're more engaging with your audience
You're building something that will work long-term
With this method, you're going to create a blog and monetize it with AdSense + CPA.
What is AdSense? Basically Google's Ad Network, it's those annoying banners that you see on the side/top/bottom of every blog or news website. Since you're promoting for people that are already on their phone, you don't have to worry about ad blockers at all.
How to create a blog
Simply put, purchase hosting, purchase a blog WordPress theme (like Newspaper) and start creating your blog. Make sure you post in your story a link to the post every time you post something, and make sure to mention them in your IG posts (for example, read more in our story).
How to grow your blog
At the end of every post make sure to get an opt-in for a newsletter, offer them something in return for getting into the newsletter (for example, join our newsletter and get a free workout routine). Building a newsletter will help you grow a community outside of IG.
Add share links for FB, IG, WhatsApp, etc, at the end of every post. The reason is pretty obvious, you want people to share your posts.
Add comments. That is extremely important, it'll create a discussion and will give your audience a reason to come back to the blog.
Don't rely on IG. Use sites like Quora, Pinterest, and Facebook groups to drive more traffic to your blog.
Focus and learn more about SEO. This will help you rank your articles and get organic visitors to your website, which is the most important thing in a blog; passive traffic.
The more traffic you'll get = the more ad impressions you'll have = the more money you'll make!
When to create a blog
When you're extremely passionate to your niche
When you're planning to create something for the long-term
Monetize your blog with CPA
You can easily monetize your posts with CPA and integrate your content lockers to your WordPress blog. Make sure not to repeat that too much if you want your audience to return to your blog.
For more information about AdSense, including how to get accepted, click here.
---
E-commerce or Dropshipping
I've already covered this topic, but this is a great way to monetize your IG account easily. You might notice that 99% of IG shoutouts nowadays are related to a Shopify store, that's because they're dropshipping.
If you're interested in learning more about Dropshipping, check out my post here ($12k made)
---
That's it guys! This is by far the most valuable post I've ever posted here in my opinion, so feel free to take these tips and implement them for yourself! Don't forget to share the results as well.

Note: The 3 methods I've covered in these guides are huge, therefore it's impossible for me to cover everything or make it newbie friendly. If you have any questions, make sure to drop them below, but before you do, make sure you do some research for yourself as well.

#inforthegiveaway