Has anybody had any luck with this lately, or seen OSSI to get his help?
Hi, sorry for late reply. I've just checked your message and submitted the form for your account. Let me know if you need help with other account.
Thank You. I truly appreciate it.
I received the email from Facebook and will report back here how it works.
I will share my experience today with this process.
NOTES: The account was created by a person I hired on Upwork to create a website and social media for me. He lives in the Ukraine. Website and Twitter fine, but the Instagram account locked me out May 19, 2020 when I changed from his email address to me own (he was mail.ru mine is gmail).
The Instagram account has the username I wanted, but no profile image and posted images. Bare.
I was given the error show by ossi in first post but was unable to get access to the support form. I tried APP on 2 Android phones, Chrome, Brave and Opera browsers on desktop with or without VPN.
1- Last evening ossi submitted my information for me because I was unable access the form.
2- Email arrived at 3:02 my time in Colorado, USA. I replied with all the information they requested at 7:43am my time.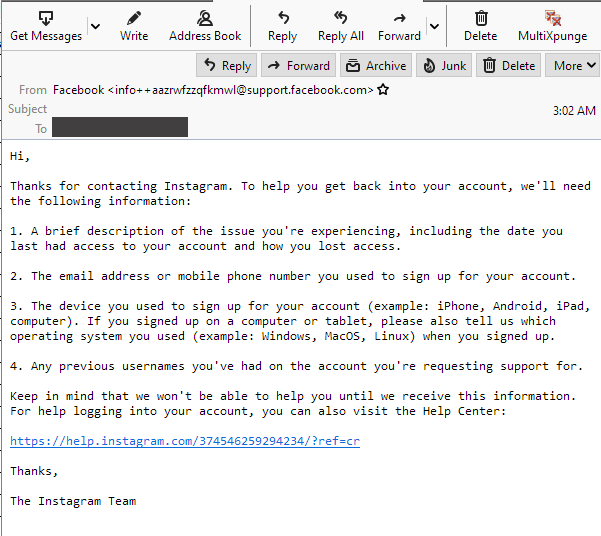 3- They sent a sent another email asking for picture with number on paper, and my face.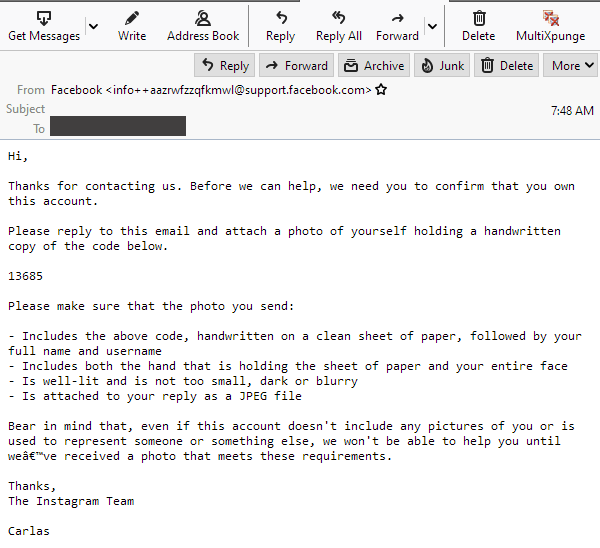 4- I sent that reply, with the number and photo at 10:01am my time. I will not post image here, but will show to ossi and he can comment if I did it correctly.
5- At 10:23am my time they sent another email saying they couldn't proceed because first photo was not correct.
6- I created new photos and used new paper to write down the code and name and username and submitted the new materials.
7- At 11:41am my time they replied again saying the second batch of photos also are not good enough. I am not going to post here but will show second photo to ossi and he can comment.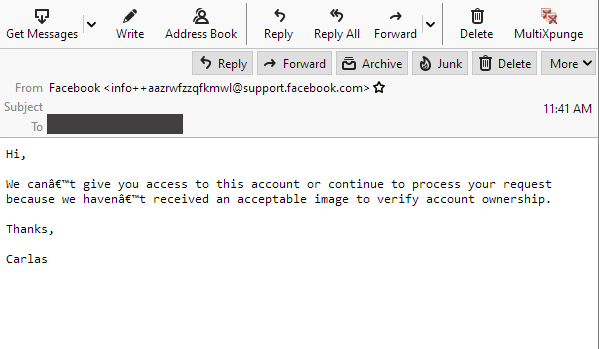 It appears that the process didn't work for me. I guess it is because it was created by another person. They might be expecting me to write his name on the paper / photo.
I have the original email address and they have not sent any messages there.
What i should i type in the request box to recover my account for not following policy and guideline please help
I have submit the form.They ask me to send an picture of me with there given code.I'm doing following it right.?
Yes, you need to send a picture of you holding a sheet of paper including a handwritten copy of the code they sent. Repeat the steps if they say they can't verify the account ownership.
Bro its not working they reply me that i have fill other form. When i try to fill that form it they say they cant process it due to covid. Help me what shall i do now.
Are you still offering to help because I need it .
Btw do you know a way for them to actually review your account bc I don't think it will work if they haven't even finished reviewing my account
Assuming chances of re-enabling are good if you get to this step in the process?
well, that depends on them, you might get your account after that or they might keep asking and telling you that they can't verify your account ownership using that photo, but keep messaging them.
Yes, I am. Please PM me with your account email, and the account type (business/personal with photos of you/personal without photos of you).
I don't know of any other way. Sorry!
Do you mean the appeal form? You can share the link here.
Keep submitting an appeal through that form. It's the only way to recover your account. Also make sure you have gotten rid of the contents that have violated IG's policy and guidelines. it may take months to recover some accounts. You need to keep submitting the form.
Hi, I submitted the support request form for your account. However, I don't think they will recover your account after you submitted your selfie since they have disabled your account. They will probably ask you to fill out the correct form for disabled accounts. https://help.instagram.com/contact/1652567838289083
Have you tried to submit that appeal form?
Hey thank you, I've received an email from instagram. But received another one saying
"Hi,
It looks like you contacted us for help with a different Instagram account. To make sure we're helping the right person, we're only able to help you with one account at a time. If you're having trouble with another account, please try to log into that account and submit a separate report through the Instagram app."
What does this mean? Will they still help?
Can't submit any appeal forms due to error message "log in to your Instagram account to see how to submit a review" or something like that!
Sorry to bother you so much!
Try to log in to your IG account on IG app and see ii you can submit the appeal form from IG app.
Are you sure the email address is correct? Have you submitted the support request form for another account before?