I'm glad it helped

i got this issue happening again. today my account got 50 help us confirm you own this account… never stoped. after verified.valid… and its happening again in a couple days. i check my account on page still active…
Thanx, finally worked. Yeah, the core point was to copy "secure your account here" into a new private window, then log in to your account in the same window and then copy and paste the link once more. Then I finally got the page "Is your account info correct"
When you copy/paste the "secure your account" link to a new private tab, did you change the location of the VPN?
Nope, just stayed at the same private tab
Hi Guys, so I tried a ton of the suggestions on here. The private browsers just came up with error. After changing my password and trying a ton of different ways I CRACKED IT.
On your phone, download TOR browser and VPN, on the VPN option. Follow the steps discussed above.
Reset your password.
Wait for the second email. Secure your account
May get a 6 digit code. Then it worked, asked me to confirm my details and I was in :))
Good luck everyone!
5my account. still get help us confirm you own this account… another account successfull. only 5acc still keeping the same error. i try reset device id, but still same. need help?
Try TOR browser and VPN app on your phone and follow the steps i have listed above.
im not using android phone. im using pc.
Did you have the problem before that you can't change your password anymore and always get a "Oops, something went wrong" window? Because that is what happens to me everytime I try to reset my password. But I will try your solution.
EDIT:
Unfortunately still the same problem. I can't change my password. When I type in a new one and hit Change Password, I get to a "Oops something went wrong" page. So I don't get the mail with the "Secure your account" link either.
STEPS I DO AND WORK FOR ME:
1 - In incognito mode, you must click on "I don't remember my password".
2 - Close incognito mode.
3 - They will send you an email that you must open and within it you will find this: If you didn't change your password, you can secure your account here.
4 - Right click on "you can secure your account here" and click on COPY.
5 - Open new incognito mode, log in to your account and then paste the address you copied and press enter.
Luck for all <3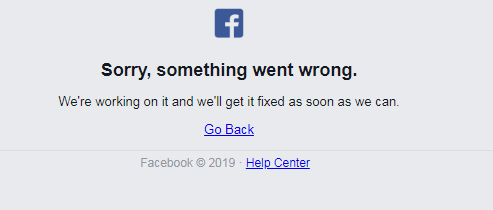 Did someone manage to get around this page when changing the password?
its still not work. still get help us confirm you own this account
Bro please help me ! I'm having this issue I'm doing all you said just tryna make sure I'm doing it right
Hey can you help me please i think i dm you on Instagram too
I got the captcha. Then solved it. Then it went to phone verification. I put in a colombian number, code never sent. I put in a US number and code sent. Then it went to account compromised so I changed password. Now account is VALID and running actions via EB again.
This is a child account that hasn't posted since 2017.
We're not on discussion about the captcha verification - we're talking about an either account 24hr review or account confirmation.
Mine started as a "confirm this is you" (title of the thread) and I got back in with a US number. Maybe that will help some people.
So that's a Phone Verification. That's great you got yourself back in by the way

Hi guys, I'm experiencing the same problem. I kept getting redirected to secure your account and changing passwords or using phone verification codes doesn't seem to help at all. I'm stuck in this endless loop. I can no longer access my old email associated with instagram so phone was the only option yet it still doesn't work. I reported on the form and instagram came back to me saying it appears my issue is resolved when it hasn't. And challenge_required keeps popping up when I try to log in… what can i do?