Mine is 7 years with 71k followers
what did you do that caused this?
I used a third party app to find my unfollowers
wow only that? Ig is really getting strict. Good luck recovering it!
Got a slightly modified message: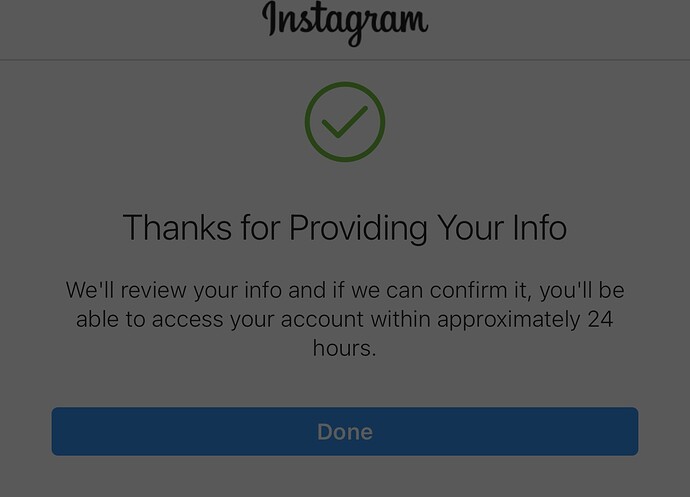 And yeah it's only from logging into a third party app to see unfollowers and I didn't even do any actions🤷🏻‍♀️. Literally just logged in for an hour.
It asked for phone verification but I was able to change the number.
Seriously now

This is how they disabled account after 24Hours your account will be gone
Did you fill out the appeal form?
To disable an account so old (and assuming your main account) is crazy. Good luck
We are having the same problem. 50k+ followers, 3,100+ posts, legitimate startup account at least 4-5 years old. We just keep getting the same runaround with no help: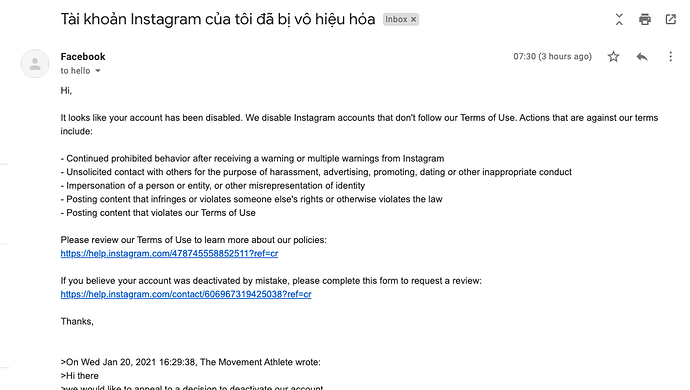 Since the appeal solution just returns the same generic message over and over again I am going to try and message the emails listed on this page as well, but it's not looking good:
https://www.socmedsean.com/answered-how-do-i-contact-facebook-support-when-i-need-help/?fbclid=IwAR1CwAVuUXMw-e1wlN07WfUiuTIFS6abG3v2l7YESJheHpmSbp5RSrI7pvY
I did get that once, my account was gone for 40 days until I logged on Facebook business since I ran ads on that account as well, had a live chat with a facebook dude and after a day my account was back!
Hello!
I have that problem that I can't long into my Instagram account, "thanks for providing info", what do I do? Thank u
I suggested that to my client but apparently they can't get to the live chat?
That is sadly how the unbanning process works.
Waiting for that one employee that presses the YES, instead of the NO button.
Would you mind sharing the process? I run Facebook ads as well but this hasn't crossed my mind!
We're submitting appeals basically every day, hope you are right

Maybe I can add our pitch here and let me know if you have any feedback?
I tried to find it some weeks ago, could not find it, then some weeks later I just found it and it worked
I literally have the same problem! Have you been able to get back into your Instagram now?
It's been a week and 2 days. No progress. If anything changes I'll update here
Hi guys just been reading through - I had my account disabled and it took me around 5 weeks of sending the code etc to get it back - i usually sent one every two days until it eventually came back
I dont think there is any secret or sure fire way to get it reenabled it just seems to be hit and miss and whoever sees your submission as someone else here stated - it really is the worst customer service for a massive company