Check this out!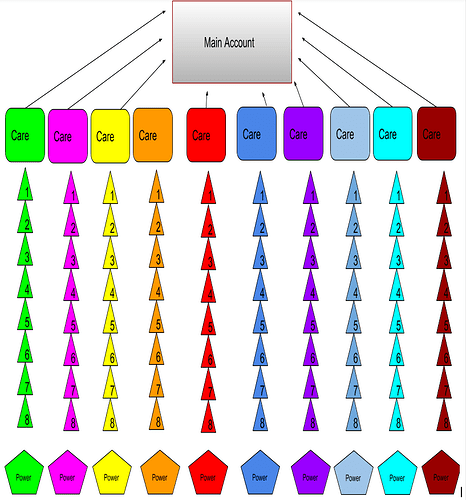 So we have plenty of documents that has mother slave info but I felt I needed to see it plus I wanted something I could use replace accounts when an account gets banned. On top of that I wanted to see if this theory would work as well.
At the top we have the main account. This is my business account that I will not be doing anything except for posting and engaging with post and DM's from people. Sharing viral content in the travel niche. It will not be added into Jarvee.
Second row is the care section, because well I care about these accounts and these are in the same niche but each a little different. These accounts will reference each other but none of the accounts below it. They will point back to my main account as well. (Still trying to figure out how they point back, html, landing pages, @ , #. I don't know the best way and how often they should be referencing my main account.)
3rd section is the triangles and these accounts stay within the respective group but they all link and hashtag to eachother. Probably do a Via: name in the caption and a few DM's. Once every few post I will reference that I received the image from the care account above. (Again, still trying to figure out how to point it back to the care account above all the other accounts without it being too noticeable.)
4th section is the power accounts. These accounts will be paneled and growed into 10k / 100k accounts fast to put into power like groups for the triangle accounts above it to receive the likes.
Last but not least is the scrape account. I will scrape with 1 account for all of these accounts. I'm also going to mix up the proxies where green 1 and 2 ect will not be on the same proxy.
I'm mainly doing this for organization and to replace accounts where it's needed. If I see 4 red accounts all gone on the same day I think it will help me understand what group is having issues. If accounts have issues I can visualize it in my head better.
Where is this flawed and how could it be improved? Am I over thinking this?
Cheers