Hey, so a similar guide was posted but it was a bit tedious and if you want to do what I did and make a very low effort/average reward page that can grow as tiktok grows then check this out.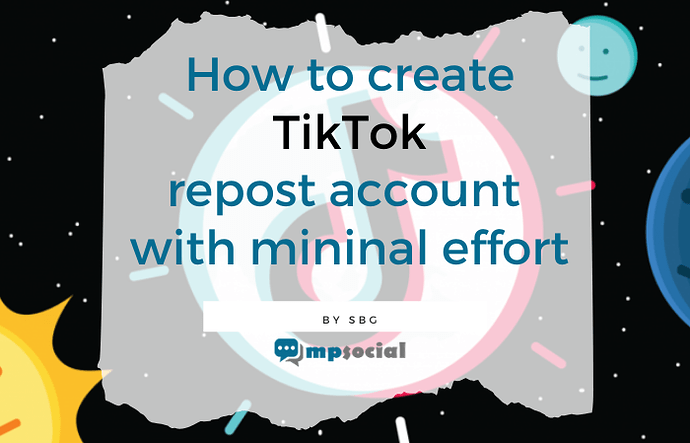 I only got on tiktok a few days ago so I don't really have a lot of experience but it's tried and tested so here's my method…
My niche is online skating so I will reference that, but this can work for any niche (inline skating is pretty narrow)
go into YouTube and type in 'best skate tricks of all time' (or something relevant to your niche) - a million videos pop up, download your favorites
most of them are 3-5 minute long, I download the whole video and put it into an app called INSHOT
Then go to the canvas size and click on tiktok. Now all your landscape videos will fit (they still look pretty shit but literally no one cares)
MAKE SURE YOU REMOVE THE INSHOT WATERMARK
I spend 30-45 mins cutting all these up into little clips on my iPhone, just trim the main video, save as new clip, repeat.
from here you usually get 20~ clips from 1 vid (depends on how long you want your clips obviously)
and then from here I just post it… I spend a couple of minutes really making sure I've done everything because there's so many things you can add like effects etc which actually look really good if you understand it! -
my upload checklist - add/remove music (trending songs seem to do best) - make sure the thumbnail is good (my results seem to show it's important) - add effects where needed (they look cool if you use them subtly) - use relevant hashtags & also #fyp/#goviral/#trending etc - these seem to actually work
another tip is whenever I have a minute I'll upload as many videos as I can and save them all to drafts so I can just post them within seconds if I needed to!
last tip: try and get your video to fit into a phrase of music, therefore when they rewatch it's much smoother and more likely to keep playing, rather than if the music is cut half way through it sounds super awkward (this isn't tested but I have a degree in music and I'm pretty sure this is something to consider!)
Probably missed some stuff but let me know. My videos are average quality and they do amazing so if you could find some high quality videos shot in portrait to do the same method then you're laughing!
The main thing is that engagement is free here at the moment, even low quality vids do well considering. So keep that in mind.
my page is: @theskatemag
Thanks

#inforthegiveaway