Hey everyone!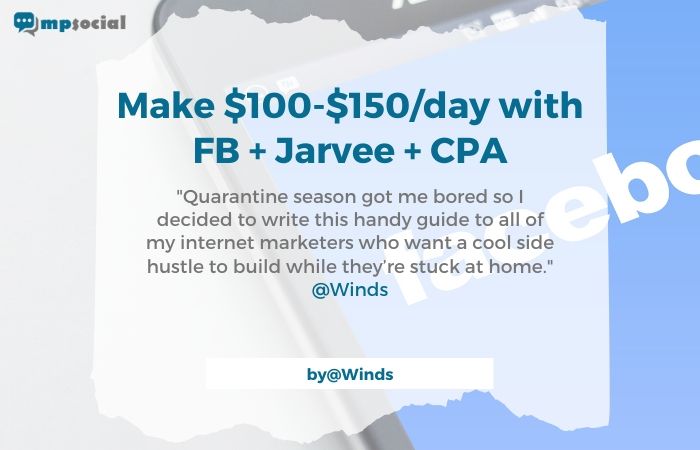 Quarantine season got me bored so I decided to write this handy guide to all of my internet marketers who want a cool side hustle to build while they're stuck at home.

Requrements:
An account in a CPA Network
Jarvee
FB Accounts
Here's the truth. Any automation software can work, but trust me when I say this, in terms of group scraping and customization Jarvee is by far the best for FB marketing. It's extremely hard to warmup your account without getting it suspended without Jarvee's settings.
Choosing a CPA network
Choosing a CPA network is tricky! If you're not active in a CPA network yet, now is the best time to get started.


For this method, my recommended networks are:
OGAds
These are non-referral links.
Applying for these networks might be tricky for some of you, so if you guys get declined for any reason PM me here and I'll get you approved in any of these networks.
Getting FB accounts
We need a lot of Facebook accounts for this, in fact - the more the better!
I get my accounts from a nice little Indonesian website called p-store.net. This website is a golden nugget. Why? They sell all kind of accounts for dirt cheap (even IG accounts). Search for fresh Facebook accounts (one of them sell 20 for $2.5), purchase them and you're all set! By the way, I don't know Indonesian as well, but Google Translate should do the job.

Proxies
You don't need fancy 4G rotating residential proxies for Facebook, which will make everything much more affordable. I buy my proxies from https://proxies.com (not affiliated with them at all), but you can do your own research in terms of proxies.
Warmup
Since you probably purchased fresh accounts, warming up your account is a slow and painful process. Start by adding your account and wait at least 1 day before doing any actions. Then, start liking generic pages (like Nike, Adidas, and Beyonce for example) and start interacting with your feeds (on day 2 I usually like 5 posts in a day). Increase the amount of likes every day and let it run for a week. Monitor your accounts constantly and make sure they look realistic.
Monetizing
And now for the interesting part! Go crazy with this one!
For starters, choose an offer and a niche and create a Facebook page for it (preferably a Facebook account that you have access to). Then use your account network to join groups and share the posts from the page to the groups (this is possible with Jarvee). Use the group scraping feature to scrape relevant groups.
Possibilities are endless! Here are some of my examples:
Because of the Coronavirus you're giving away free gift cards! (use incentive traffic for this, offers like "free $100 McDonalds gift card" should do the work.
You're looking for people who want to earn easy money by filling out surveys (use offers that make you money upon registering to a survey website)
And a bunch more! Just use your creativity and you'll get there.
Landing page
Here's an important part, you can't direct link to your offer in Facebook. You'll need a landing page for this. My suggestions is to ask the visitor a few questions and then redirecting him to the offer link.
But, here's another golden nugget: the best way to gather leads is to ask the visitor a few questions, and then asking him for his email. This way you can build lists, gather leads, and use these lists for future offers.
A good WordPress add-on to create those surveys: https://thrivethemes.com/quizbuilder/
My results in OGAds in a day:


#inforthegiveaway