Hey Guys!

Over the last few months I have been studying and comparing the effects of an Instagram Business Profile vs Personal Profile on things like Engagement, Reach, Impressions, Virality, Explore Page etc.
I have done a case study on my main account which is a personal brand and the results have been quite shocking
First of all:

I have been in the IG game for years now with my main focus on growing personal brands and businesses of mine.
The thing that I have always paid attention to - whether it was IG or YouTube - was studying the elite of the game who are truly crushing it on every level. I am not talking about accounts with a couple 100k. I am talking about accounts with millions of followers reaching mainstream audiences. People that a lot of your friends will follow.
When I was confronted with claims that business profiles have lower engagement than personal profiles, I always shrugged it off thinking there is no other way. I mean after all, every body was doing it right. I always thought it was the thing to do if you took IG seriously so I had all my accounts on business profile pretty much from day one.
But here is the kicker - Not everybody is doing it.
In fact, when I was looking at and studying the biggest accounts, I noticed very few of them actually have business profiles, at least if they are a person (not talking about brands - more on that later).

You might be asking "Luffy, how can you even spot if someone is using a business profile or not?"
The answer is actually quite easy, although it took me a moment to realize.
There are 2 foolproof ways that give out a business profile:
The Tagline/Business Category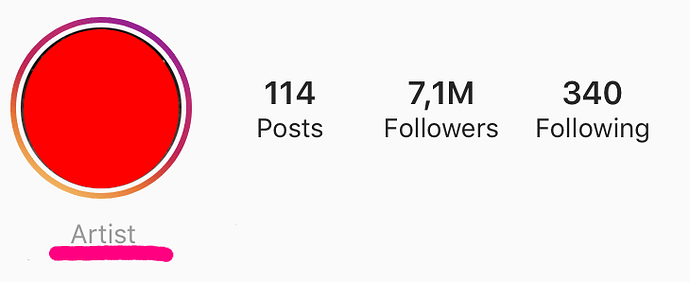 Personal Accounts can't have these yet business accounts are required to get these. You can't not have this if you switched over to business profile. I tried multiple times.

If an Account has 3 CTA Buttons, meaning one more than the usual follow and message button, they have a business profile. As a business account you are required to at least have one contact option (phone or email) which leads to a third additional contact option. That is why lots of big influencers have their email and contact info in their bio - THEY ARE USING A PERSONAL PROFILE
Now looking at these factors and checking out lots of the biggest influencers, models, artists, entrepreneurs, public figures, people who just crush Instagram in general, I noticed most of them actually don't have a business profile but a regular profile.
I also noticed some of the creators who were quite big but I heard complaining about lowered engagement over the last years, had switched to a business profile, probably just because it was the thing to do, right?
Knowing this as well as the constant rumors that a business profile lowers engagement, I was willing to do a case study on my accounts and test it out. The findings will surprise you.

Immediately after switching to a personal profile, I noticed my posts were seen and liked by a lot more of my own followers.
Followers that I have interacted with in the past and always wondered why they stopped liking and commenting on my posts.
Well it turns out, they just weren't seeing them. Crazy, right.
Overall, I got most of my impressions from hashtags and explore before, but now my own audience likes went from about 400 per post to 1200 likes per post.
I also noticed that my story view impressions grew and generally it seemed like my account visibility was improved.

Higher engagement
Higher reach
More likes from existing followers
Better chance of hitting explore
More visibility
More story impressions
More interaction through DMs
Was it worth it? Hell yes!
Now these results aren't surprising if you think about some of the previous posts we had discussing if Instagram lowers your engagement if you buy ads through their accounts:
The results were that most people actually got lower engagement when they had run ads at one point or another.
The reason being Instagram wants your money and if you have bought ads once, they will lower your organic reach so that you keep buying ads.
Who would be surprised if they do the same thing with a business profile. They want to hook you by lowering your organic reach so that you give them money to increase it again. Because surprise, surprise, you actually need a business profile to run ads and promote your posts.
Knowing this, switching to a business profile only really makes sense if you really are a business selling goods and services and preferably directly through ads. In that case, your main objective probably isn't getting as many followers and organic reach as possible, but generating direct revenue by targeting people with your ads.

One thing that I have always wondered was how influencers - people who are depended on brands collaborating with them - can use personal profiles if you can't see your analytics?
Well it turns out there are some external apps that can give you your analytics. I haven't tested any of these out personally yet but will in the future:
Sprout Social
Iconosquare
Phlanx
TapInfluencer
Curalate
Union Metrics

In my experience, switching to a business profile only makes sense if you are a business selling goods or services and you plan on using ads.
In other cases, especially if you are trying to build up a legit brand account (which should always be the longterm goal IMO), you are better off sticking to a personal profile.
Next step is checking out IGs new creator profile. Have any of you already checked out this feature? What where your experiences?
Also what are your experiences regarding business profile vs personal profile! Let me know!
Thanks!